Refurbished Supermicro Servers
Form Factor: 1U Rack Mount
CPU Socket: FCBGA 1283
Motherboard: Super A1SRi-2758F
PROCESSOR : Intel Atom C2758 2.4 GHz, CPU TDP 20W (8-Core)
 RAM : Max Up to 64GB, DDR3 1600/1333
HDD :Max 4 x SATA 300 + 2 SATA 600
Power Supply: 200W Low Noise AC-DC power supply with PFC
 Instant Shipping
 1 Year Onsite Warranty
Exclusive of Taxes
Shipping Charges depend on location

Buy Best Super micro server 5018A-FTN4 1U rack mount at an affordable price in India!! Order now
Supermicro 1U 4 LFF Rack Server Price List
Server Type
Specifications
Price
Buy
Supermicro 1U 4 LFF Rack Server
(Basic)

Supermicro 4LFF 1U rack server with X10DRW-it Mother Board/ CSE-815 4LFF Chassis with 12 Core/ Processor ( single Intel® Xeon Processor E5-2673v3 /2.30 GHz/20-core/50 MB /135 W) / 128GB (4X32GB) PC4 DDR4 ECC Registered Server Memory /4 LFF/ 2 x 480GB Hot Plug SATA SSD / intel@ C612 RAID Controller (Raid SATA:0,1,5,10) Support /2 PCIe Slots/ 2X Intel® X540 10G T Ethernet Ports /dedicated IPMI 2.0/ Hot Plug| Non Swap single 600W Power supply/ universal rail kits

Buy Now
Supermicro 1U 4 LFF Rack Server
(Standard)

Supermicro 4LFF 1U rack server with X10DRW-it Mother Board/ CSE-815 4LFF Chassis with 24 Core/ Processor ( Dual Intel® Xeon Processor E5-2673v3 /2.30 GHz/20-core/50 MB /135 W) / 128GB (4X32GB) PC4 DDR4 ECC Registered Server Memory /4 LFF/ 2 x 480GB Hot Plug SATA SSD /2 x 2TB 3.5-inch 7.2K RPM, 6Gbps SATA Hot Plug Enterprise Hard Drives / intel@ C612 RAID Controller (Raid SATA:0,1,5,10) Support /2 PCIe Slots/ 2X Intel® X540 10G T Ethernet Ports /dedicated IPMI 2.0/ Hot Plug| Non Swap single 600W Power supply/ universal rail kits

Buy Now
Supermicro 1U 4 LFF Rack Server
(Reliable)

Supermicro 4LFF 1U rack server with X10DRW-it Mother Board/ CSE-815 4LFF Chassis with 36 Processor (Dual Intel® Xeon Processor E5-2696v3 /2.30 GHz/20-core/50 MB /135 W) / 256GB (8X32GB) PC4 DDR4 ECC Registered Server Memory /4 LFF/ 2 x 480GB Hot Plug SSD / intel@ C612 RAID Controller (Raid SATA:0,1,5,10) Support /2 PCIe Slots/ 2X Intel® X540 10G T Ethernet Ports /dedicated IPMI 2.0/ Hot Plug| Non Swap single 600W Power supply/ universal rail kits

Buy Now
Supermicro 1U 4 LFF Rack Server
(Powerful)

Supermicro 4LFF 1U rack server with X10DRW-it Mother Board/ CSE-815 4LFF Chassis with 40 Core ( Dual Intel® Xeon Processor E5-2696v4 /2.30 GHz/20-core/50 MB /135 W) / 256GB (8X32GB) PC4 DDR4 ECC Registered Server Memory /4 LFF/ 2 x 480GB Hot Plug SSD / intel@ C612 RAID Controller (Raid SATA:0,1,5,10) Support /2 PCIe Slots/ 2X Intel® X540 10G T Ethernet Ports /dedicated IPMI 2.0/ Hot Plug| Non Swap single 600W Power supply/ universal rail kits

Buy Now
Supermicro 1U 10 SFF Rack Server Price List
Server Type
Specifications
Price
Buy
Supermicro 10SFF 1U Rack Server
(Basic)

Supermicro 10SFF 1U Rack Server with X11DPU-XLL Mother Board/ CSE-119U 10SFF Chassis with 20 Core/ Processor (single Intel® Xeon® Gold 6148 /2.40 GHz/20-core/27.5 MB /150 W) / 128GB PC4 DDR4 ECC Registered Server Memory /10 LFF/ 2 x 480GB Hot Plug SATA SSD / AoC-S3108L-H8iR-16DD RAID Controller (Raid :0,1,5,10 Support) /2 PCIe Slots/ Dedicated IPMI 2.0/ Hot Plug| Hot Swap single 600W Power supply/ universal rail kits

Buy Now
Supermicro 10SFF 1U Rack Server
(Standard)

Supermicro 10SFF 1U Rack Server with X11DPU-XLL Mother Board/ CSE-119U 10SFF Chassis with 40 Core/ Processor (Dual Intel® Xeon® Gold 6148 /2.40 GHz/20-core/27.5 MB /150 W) / 128GB PC4 DDR4 ECC Registered Server Memory /10 LFF/ 2 x 480GB Hot Plug SATA SSD / AoC-S3108L-H8iR-16DD RAID Controller (Raid :0,1,5,10 Support) /2 PCIe Slots/ Dedicated IPMI 2.0/ Hot Plug| Swap single 600W Power supply/ universal rail kits

Buy Now
Supermicro 2U 8 LFF Rack Server Price List
Server Type
RAM
Processor
Storage
Price
Supermicro 8LFF 2U Rack Server
(Basic)
64GB DDR3 (8 x 8GB)
2 x Intel Xeon E5-2696 v2 / 24 Core, 48 vCPU
600GB SAS HDD (2 x 300GB) / 9TB SAS HDD (3 x 3TB)
Supermicro 2U 10 LFF Rack Server Price List
Server Type
Specifications
Price
Buy
Supermicro 2U 10 LFF Rack Server
(Basic)

Supermicro 10 LFF 2U rack server (X9DRW-7TPF+ Mother Board/ CSE-829 10 LFF Chassis) with 20 Core CPU( Intel® Xeon Processor E5-2670 v2 , 2.40 GHz/10-core/25MB/115W) / 64GB (8X8GB) PC3 DDR3 ECC Registered Server Memory /8 LFF/ 1 x 256GB PCIe SSD /10 x 2TB 3.5-inch 7.2K RPM, 6Gbps SAS Hot Plug Enterprise Hard Drives/ LSI 9271-8i 6GBPS RAID Controller (Raid 0,1,5) Support /2 PCIe Slots/ 2X10Gb Network Lan Ports /Hot Plug| Hot Swap dual 920W Power supply/ universal rail kits

Buy Now
Supermicro 2U 10 LFF Rack Server
(Standard)

Supermicro 10 LFF 2U rack server (X9DRW-7TPF+ Mother Board/ CSE-829 10 LFF Chassis) with 20 Core CPU( Intel® Xeon Processor E5-2670 v2 , 2.40 GHz/10-core/25MB/115W) / 64GB (8X8GB) PC3 DDR3 ECC Registered Server Memory /8 LFF/ 1 x 256GB PCIe SSD /10 x 4TB 3.5-inch 7.2K RPM, 6Gbps SAS Hot Plug Enterprise Hard Drives/ LSI 9271-8i 6GBPS RAID Controller (Raid 0,1,5) Support /2 PCIe Slots/ 2X10Gb Network Lan Ports /Hot Plug| Hot Swap dual 920W Power supply/ universal rail kits

Buy Now
Supermicro 2U 10 LFF Rack Server
(Reliable)

Supermicro 10 LFF 2U rack server (X9DRW-7TPF+ Mother Board/ CSE-829 10 LFF Chassis) with 20 Core CPU( Intel® Xeon Processor E5-2670 v2 , 2.40 GHz/10-core/25MB/115W) / 64GB (8X8GB) PC3 DDR3 ECC Registered Server Memory /8 LFF/ 1 x 256GB PCIe SSD /10 x 6TB 3.5-inch 7.2K RPM, 12Gbps SAS Hot Plug Enterprise Hard Drives/ LSI 9271-8i 6GBPS RAID Controller (Raid 0,1,5) Support /2 PCIe Slots/ 2X10Gb Network Lan Ports /Hot Plug| Hot Swap dual 920W Power supply/ universal rail kits

Buy Now
Supermicro 2U 10 LFF Rack Server
(Powerful)

Supermicro 10 LFF 2U rack server (X9DRW-7TPF+ Mother Board/ CSE-829 10 LFF Chassis) with 20 Core CPU(Intel® Xeon Processor E5-2670 v2 , 2.40 GHz/10-core/25MB/115W) / 64GB (8X8GB) PC3 DDR3 ECC Registered Server Memory /8 LFF/ 1 x 256GB PCIe SSD /8 x 12TB 3.5-inch 7.2K RPM, 12Gbps SAS Hot Plug Enterprise Hard Drives/ LSI 9271-8i 6GBPS RAID Controller (Raid 0,1,5) Support /2 PCIe Slots/ 2X10Gb Network Lan Ports /Hot Plug| Hot Swap dual 920W Power supply/ universal rail kits

Buy Now
Supermicro 4U 36 LFF rack server Price List
Server Type
Specifications
Price
Buy
Supermicro 36 LFF 4U Rack Server
(Basic)

Brand New Supermicro 36 LFF 4U rack server (X10DRH-CT Mother Board/ CSE-847 36 LFF Chassis ) 24 Core CPU ( Dual Intel® Xeon®Processor E5-2673 v3 (2.50 GHz/12-core/30MB/120W)/ 64GB (8X8GB) PC3 DDR4 ECC Registered Server Memory /36 LFF/ 2 x 480GB Hot Plug SSD /34X 6TB 3.5-inch 7.2K RPM, 12Gbps SAS Hot Plug Enterprise Hard Drives /LSI 9361 -8i 12GBPS RAID Controller (Raid 0,1, 5,10) Support /2 PCIe Slots/ 2X 1Gb Network Lan Ports /Hot Plug| Hot Swap dual 1400W Power supply/ universal rail kits

Buy Now
Supermicro 36 LFF 4U Rack Server
(Standard)

Supermicro 36 LFF 4U rack server (X10DRH-CT Mother Board/ CSE-847 36 LFF Chassis ) 24 Core CPU ( Dual Intel® Xeon®Processor E5-2673 v3 (2.50 GHz/12-core/30MB/120W)/ 64GB (8X8GB) PC3 DDR4 ECC Registered Server Memory /36 LFF/ 2 x 480GB Hot Plug SSD /34X 12TB 3.5-inch 7.2K RPM, 12Gbps SAS Hot Plug Enterprise Hard Drives /LSI 9361 -8i 12GBPS RAID Controller (Raid 0,1, 5,10) Support /2 PCIe Slots/ 2X 1Gb Network Lan Ports /Hot Plug| Hot Swap dual 1400W Power supply/ universal rail kits

Buy Now
Supermicro 36 LFF 4U Rack Storage Server Options
Server Type
Specifications
Price
Buy
Supermicro 36 LFF 4U rack server
(Basic)

Refurb Supermicro 36 LFF 4U rack server (S2400SC Mother Board/ CSE-847 36 LFF Chassis ) with 20 Core CPU Intel® Xeon®Processor E5-2470 v2 (2.40 GHz/10-core/25MB/115W) / 64GB (8X8GB) PC3 DDR3 ECC Registered Server Memory /36 LFF/ 2 x 480GB Hot Plug SSD /34X 6TB 3.5-inch 7.2K RPM, 12Gbps SAS Hot Plug Enterprise Hard Drives /LSI 9271-8i 6GBPS RAID Controller (Raid 0,1, 5,10) Support /2 PCIe Slots/ 2X 1Gb Network Lan Ports /Hot Plug| Hot Swap dual 1400W Power supply/ universal rail kits

Buy Now
Supermicro 36 LFF 4U rack server
(Standard)

Refurb Supermicro 36 LFF 4U rack server (S2400SC Mother Board/ CSE-847 36 LFF Chassis ) with 20 Core CPU Intel® Xeon®Processor E5-2470 v2 (2.40 GHz/10-core/25MB/115W) / 64GB (8X8GB) PC3 DDR3 ECC Registered Server Memory /36 LFF/ 2 x 480GB Hot Plug SSD /34X 12TB 3.5-inch 7.2K RPM, 12Gbps SAS Hot Plug Enterprise Hard Drives /LSI 9271-8i 6GBPS RAID Controller (Raid 0,1, 5,10) Support /2 PCIe Slots/ 2X 1Gb Network Lan Ports /Hot Plug| Hot Swap dual 1400W Power supply/ universal rail kits

Buy Now
Do you need efficient, high-performance, and earth-friendly servers for managing your IT and data center workloads at optimized speeds, and within your budget limitations? Choose refurbished Supermicro servers from Server Basket, where you can find these systems that deliver accelerated performance at reasonable prices. The servers feature the latest Intel Xeon processors, HDDs, and advanced memory with different server form factors ranging from 1U to 4U systems. Supermicro's Redfish manages your data center operations efficiently through a simple and secure infrastructure irrespective of the business size. You will experience an energy-efficient power system with the use of Supermicro servers as they support redundant power supplies and innovative solutions. These systems automatically detect component failure by diagnosing their health and analyzing the reports. We also provide customized service options to be aligned with your business needs, 24/7 technical support, and assured safe and fast delivery across India.
User-Friendly Refurbished Servers
The refurbished Supermicro servers come with superior computing performance needs up to 4 TFLOPS in 4U and 2 TFLOPS in 1U rack servers with hybrid CPU and GPU solutions. These systems deliver increased performance and energy-efficient outputs for scientific computing, medical imaging, CAD/CAM, and other data-intensive applications.
Any Time Self-Redfish
Redfish API of Supermicro servers enables the provision of security management services for hybrid IT and software-defined data center (SDDC) services. It ensures multi-vendor server management seamlessly for modern organizational environments to increase productivity and add security while managing the tasks efficiently.
Economical Servers
Supermicro servers include flexible power management designs with innovative systems that assure reduced power consumption across all components. They provide peak efficiency results with high performance and high-quality Green standards. You can achieve superior performance with the use of Supermicro servers that reduce the heat dissipation effects automatically, and hence the overall costs also.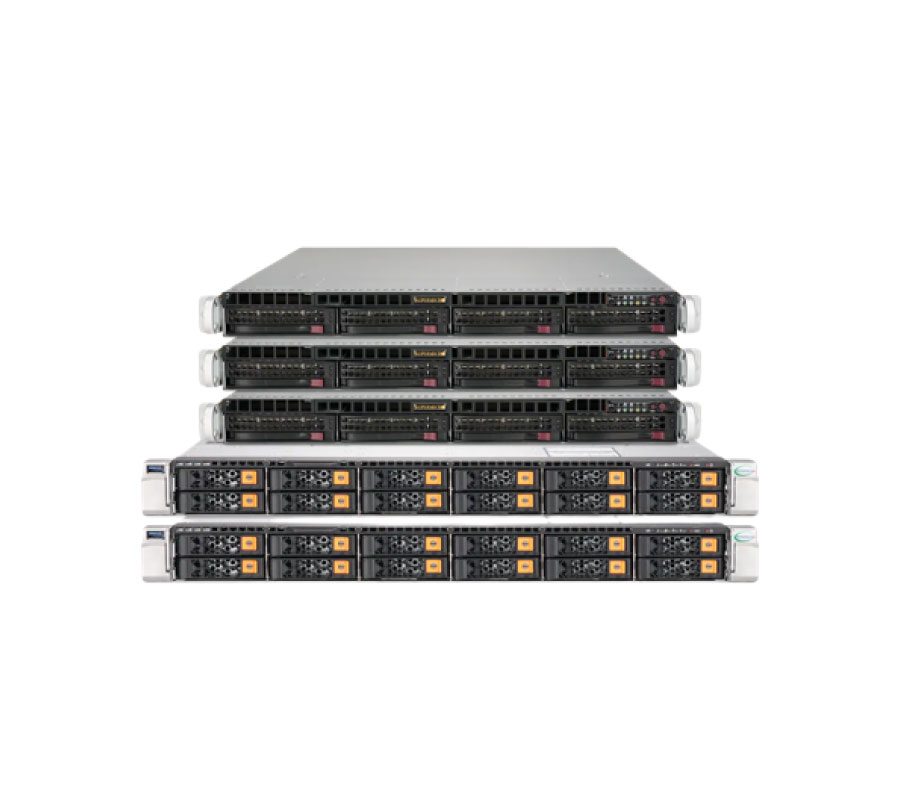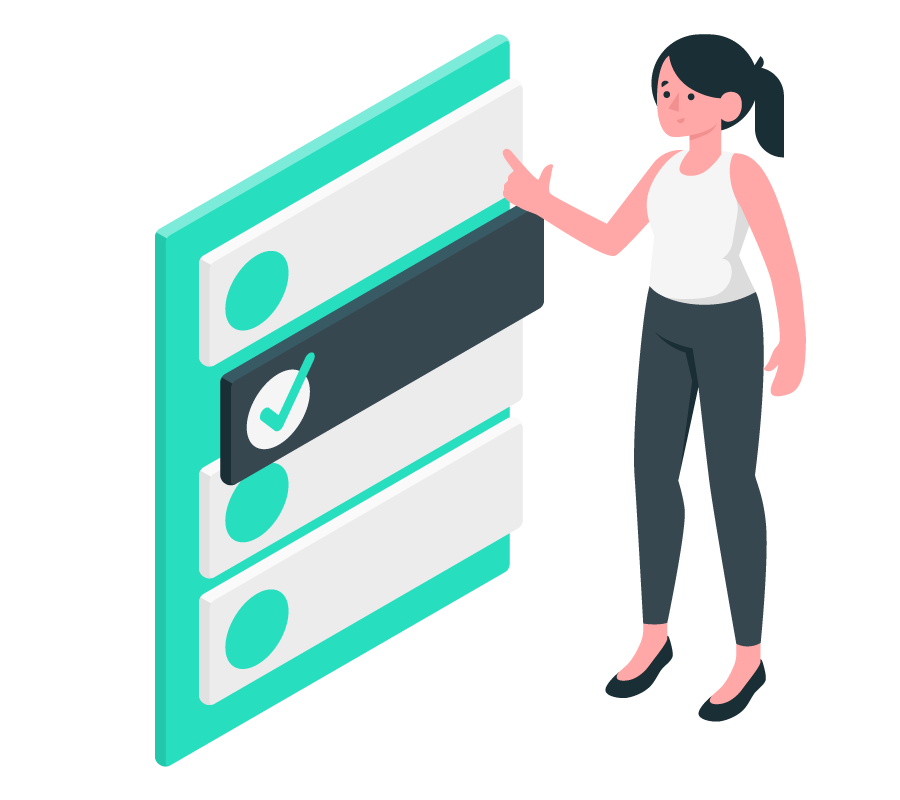 Self-Service, No Dependency
Supermicro includes the capability of determining the health of server components like power supply, USB, CPU, HDD, memory, GPU, PCIe, backplane, network, and VGA. Local and remote diagnostics of the server help to perform troubleshooting without relying on the OS. It allows you to identify the failed components based on the test results.
Widest Range of Configuration Options
We provide refurbished Supermicro servers ranging from 1U to 4U rack servers and other different types like Supermicro Tower servers and Twin servers. They support the latest Intel Xeon processors, redundant power supplies, storage drive bays, memory, etc. These high-end Supermicro systems offer superb flexibility in configuration with reliability and minimized downtime.
Design as Per Requirement: (Storage and Networking Total Solutions for Virtualization, Cloud, Software-Defined Storage, and Big Data)
Supermicro supports adaptable and customized options to address your business needs that meet your customer demands. You can choose your customized configuration for components such as storage, memory, processor, or power supplies without compromising on high efficiency and cost-effectiveness. The refurbished servers are suited for virtualization, Big Data, software-defined storage, and cloud computing workloads.
Instant Delivery
At Server Basket, you can get access to superfast delivery services for your ordered Supermicro servers. We don't delay in processing the shipping of products after receiving the order from customers. Your products reach your destination no matter wherever you're in India, whether Pune, Hyderabad, Chennai, Delhi, Bangalore, or any other location.