Wide Range of RAMs Available: 4GB, 8GB, 16GB, 32GB, 64GB
Suitable for All Servers
Free Remote Installation Help
Quick Delivery All Over India
Easy Return Policy
24/7 Tech Support
Description
What is Server memory?
Server memory is nothing but ECC Memory (Error Correcting Memory). This memory of your workstations or servers can detect and correct common internal data corruption errors. Usually, server memory is a misconception as server storage memory but it's not. It's usually temporary workspace memory to perform the instructions along with data processing.
Check out the Detailed DDR4 RAM Price List At Server Basket, Buy DDR4/PC4 Server registered memory online at Server Basket in India at low prices. We promise to assist you in boosting up your Dell, HP, Cisco, IBM, Super Micro servers with improved capacity and speed with our DDR4/PC4 server memory. A wide range of DDR4 Server Memory modules with various configurations are available to purchase most relevant one. We also offer easy buyback policy and 7 days return policy for all memory models.
DDR4 Server RAM Price List
| Capacity | Type | Speed | Price |
| --- | --- | --- | --- |
| 64GB | DDR4 | 2666 MT/s | |
| 64GB | DDR4 | 2400 MT/s | |
| 64GB | DDR4 | 2133 MT/s | |
| 32GB | DDR4 | 2933 MT/s | |
| 32GB | DDR4 | 2666 MT/s | |
| 32GB | DDR4 | 2400 MT/s | |
| 32GB | DDR4 | 2133 MT/s | |
| 16GB | DDR4 | 2666 MT/s | |
| 16GB | DDR4 | 2400 MT/s | |
| 16GB | DDR4 | 2133 MT/s | |
| 8GB | DDR4 | 2666 MT/s | |
| 8GB | DDR4 | 2400 MT/s | |
| 8GB | DDR4 | 2133 MT/s | |
| 4GB | DDR4 | 2133 MT/s | |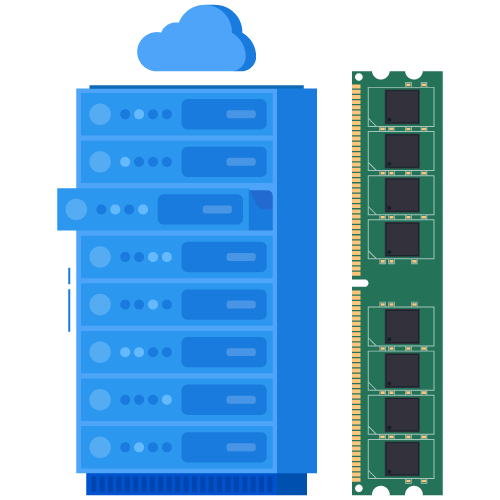 Suitable for Any Server
We offer you genuine DDR4 Server registered memory suitable to any brand server model like Dell, Hp, Cisco, SuperMicro etc. Our DDR4 Server memory models meet all your server needs including faster delivery speed, reduced power consumption and improved capacity. Check out the available memory configurations and buy the best suitable DDR4 server memory for Servers like Dell R630, R730, HP ML10 Gen9, DL380 Gen9, IBM X3550 M4, X3550 M5, X3650 M5 Server etc, We promise to offer most affordable and easiest way to improve existing server performance. Our DDR4 server register memory is titled with a 1-year warranty to deal with all hardware and software issues.
Any Configuration is Ready
We present a wide range of DDR4 Server memory to upgrade your latest Dell, HP, SuperMicro, CISCO servers. We offer 8GB 16GB, 32GB, 62GB & 128GB memory modules with DDR4-2666, DDR4-2400, DDR4-2133 MHz Speeds. We are ready with any type of configurations to support your high-end servers of Brands like Dell, HP, IBM, SuperMicro Server with faster processing, optimizing speed, minimize TCO, improve efficiency, reduced power expenses, enhance server reliability and everything within your budget. We deal with distinct configurations genuine memory modules and Provide detailed quote as per the updated DDR4 RAM Price List Online at Server Basket
Error Free RDIMM Memory
Our DDR4 Server register memory is equipped with error-free Registered DIMM(Dual in-line memory modules) to maximize your server performance, scalability and reliability. High-density RDIMMs is the most cost-effective way to improve the capacity of your current server, make your deployments quicker and enhanced error correction codes, instead of investing in expensive new servers. Error-free RDIMM memory has inbuilt ECC Parity ensuring to prevent data errors and improve overall server reliability. Hence Investing DDR4 RAM is better option to upgrade the Existing Server to improve its performance
Easy Buy Back Policy
We offer easy buy back policy based on the Updated DDR4 RAM Price List on that particular Date to all the DDR4 server memory modules. You can easily sell your DDR4 Server memory either excess or outdated RAM modules for cash back. Server memory modules have a long lifetime, so most of the times, your preloved or outdated modules may be still useful to many other applications. So, we buy back paying almost 75% of the value. We process the buyback request in just a few minutes, evaluate the memory and offer a quote. We pay your shipping and you get paid.
7 Days Return Back Policy
We also guarantee 7 days return back policy for the DDR4 server memory modules, in case of any dissatisfaction from the customer end. If you face any problem with the memory for 7 days, we return back your money as per the quote of DDR4 RAM price or replace the product as requested by the customer. Please confirm with all the term and conditions of our return back policy, detailed by our customer support team and proceed to return the product back. We always try to offer you most genuine and perfect working server memory, but in case of any discomfort, we are really sorry.
Lowest Price Guarantee
We offer DDR4 Server memory at lowest possible prices. All our price lists are detailed with configurations and offer prices of all the server memory modules. We showcase transparent pricing on our pricelists offering genuine DDR4 server memory to your servers. Just compare our DDR4 memory pricelists with other online vendors, we bet that no one can match our cheapest prices.
Free Delivery All Over India
We deliver your product at free of cost all over India to any city Delhi, Hyderabad, Chennai, Mumbai, Pune, Mumbai, Kolkata, Lucknow, Patna, Noida, Bhopal, Mysore, Indore, Ahmedabad etc. We offer your hassle-free shopping experience at Server Basket by delivering your DDR4 Memory in a safe and secure manner. On time delivery is quite challenging but we face it with ease. We do offer free shipping even during buyback process and return policy.