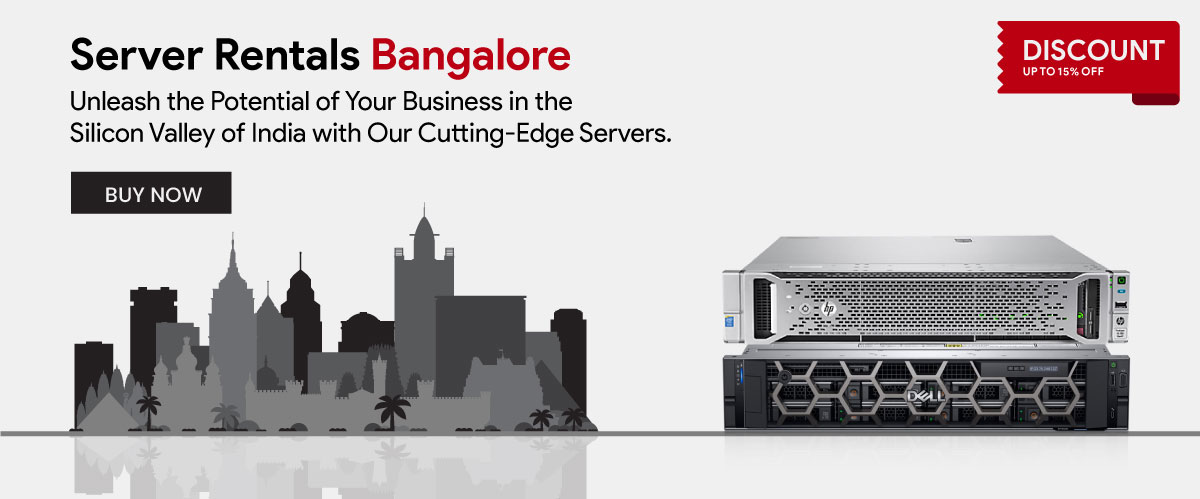 GPU Servers Rental Price List in Bangalore
| Server Model | Processor | RAM | Storage | GPU | Price / Month | Buy Now |
| --- | --- | --- | --- | --- | --- | --- |
| HP ProLiant DL380 Gen9 | 2 x 2680 v3 | 128GB | 2 x 500GB SSD | 8GB (1 x Quadro M4000) | Rs. 12,999/- | Buy Now |
| HP ProLiant DL380 Gen9 | 2 x 2680 v3 | 128GB | 2 x 500GB SSD | 16GB (2 x Quadro M4000) | Rs. 16,599/- | Buy Now |
| HP ProLiant DL380 Gen9 | 2 x 2680 v3 | 128GB | 2 x 500GB SSD | 24GB (RTX 3090) | Rs. 30,699/- | Buy Now |
| HP ProLiant DL380 Gen9 | 2 x 2680 v3 | 128GB | 2 x 500GB SSD | 48GB (2 x RTX 3090) | Rs. 50,799/- | Buy Now |
Dell Servers Rental Price List in Bangalore
| Server Model | Processor | RAM | Storage | Price / Month | Buy Now |
| --- | --- | --- | --- | --- | --- |
| Dell PowerEdge R620 | 2 x 2696 v2 | 128GB | 2 x 500GB SSD / 3 x 2TB SSD | Rs. 10,699/- | Buy Now |
| Dell PowerEdge R630 | 2 x 2680 v3 | 256GB | 2 x 500GB SSD / 3 x 2TB SSD | Rs. 17,799/- | Buy Now |
| Dell PowerEdge R630 | 2 x 2696 v3 | 512GB | 2 x 500GB SSD / 3 x 2TB SSD | Rs. 24,199/- | Buy Now |
| HP ProLiant DL560 Gen9 | 4 x 4669 v3 | 1TB | 2 x 500GB SSD / 3 x 2TB SSD | Rs. 42499/- | Buy Now |
High-end CPU Servers Rental Price List in Bangalore
| Server Model | Processor | RAM | Storage | Price / Month | Buy Now |
| --- | --- | --- | --- | --- | --- |
| Dell PowerEdge R620 | 2 x 2696 v2 / 24 Cores | 128GB | 2 x 500GB SSD / 3 x 2TB SSD | Rs. 10,699/- | Buy Now |
| Dell PowerEdge R630 | 2 x 2682 v4 / 32 Cores | 256GB | 2 x 500GB SSD / 3 x 2TB SSD | Rs. 17,799/- | Buy Now |
| Dell PowerEdge R630 | 2 x 2696 v3 / 36 Cores | 384GB | 2 x 500GB SSD / 3 x 2TB SSD | Rs. 20,699/- | Buy Now |
| Dell PowerEdge R630 | 2 x 2696 v4 / 44 Cores | 512GB | 2 x 500GB SSD / 3 x 2TB SSD | Rs. 25,399/- | Buy Now |
| HP ProLiant DL560 G9 | 4 x 4669 v3 / 72 Cores | 1TB | 2 x 500GB SSD / 3 x 2TB SSD | Rs. 42,499/- | Buy Now |
| ThinkSystem SR655 | 2 x AMD EPYC 7742 | 1TB | 2 x 500GB SSD / 3 x 2TB SSD | Rs. 96,799/- | Buy Now |
High-end Storage Servers Rental Price List in Bangalore
| Server Model | Processor | RAM | Storage | Ethernet | Price / Month | Buy Now |
| --- | --- | --- | --- | --- | --- | --- |
| Huawei RH2288 V3 | 2 x 2680 v3 | 64GB | 2 x 512GB SSD / 10 x 8TB SAS HDD | 2 x 10G SFP | Rs. 20,699/- | Buy Now |
| Huawei RH2288 V3 | 2 x 2680 v3 | 64GB | 2 x 512GB SSD / 8 x 18TB SAS HDD | 2 x 10G SFP | Rs. 35,499/- | Buy Now |
| Huawei RH2288 V3 | 2 x 2680 v3 | 64GB | 2 x 512GB SSD / 10 x 18TB SAS HDD | 2 x 10G SFP | Rs. 44,299/- | Buy Now |
Dell, HP, IBM Server Rental Bangalore | Leading Server Dealers in India | Server Basket
Are you looking for a server on rent in Bangalore? The get the best performance servers on rent for the best prices and enjoy the benefits of having the latest hardware. We provide high-end rackmount, tower and blade servers of all generations from various brands like HP, DELL, IBM, Cisco, etc. By choosing Server Basket, one of the Leading Server Dealers in India, you get 24/7 prompt technical support, free maintenance, various affordable rental plans, and instant delivery across Bangalore.
All Major Brands Available:
At Server Basket, you get to choose from a wide range of servers from Top brands such as Dell, HP, and IBM, etc. for rent. Different series and generations of servers are available, and you can choose the best suitable one for your business requirement. Note that all the servers on rent are available for a very affordable price.
High-Performance Grade "A" Servers:
You will see no compromise in the performance of the server, and you will indeed experience the same powerful force of performance compared to the brand new one. By renting a server in Bangalore, you not only cut down your investment, but you will also get the latest hardware Like Hard Drives, Memory, Ethernet Card, Processor Etc, timely updates, and many more under the same effective price. All the servers are 100% genuine, certified, and proven to be the best quality products.
Custom Configurations Available:
You have the option to customize and configure the server that you want to take on rent as per your business application requirement. You may only need the server that is featured at its best to provide maximum performance for your business requirement, and we at Server Basket customize and configure the server based on the specifications given to us.
Multi-Level Tested Hardware:
All the servers that we are offering on rent are configured with the latest hardware that is tested under multiple levels and is certified to be genuine server by the authorized technicians. We only offer 100% genuine server, and there will be no compromise in terms of its performance and availability.
Compatible with All Applications:
Either be it SAP, HANA, GPU or VMware, the rental servers offered by Server Basket are compatible with almost all kind of applications. The servers are featured with the latest hardware and to the best of its specifications that can be adaptable to any business application requirement.
Various Rental Plans at Lowest Price:
Server Basket offers an N number of rental plans for a very affordable price. We have plans ranging from lowest to highest in terms of server specifications and configuration but you will not find any huge difference among them in terms of pricing. Have a look at the various rental plans available to know more about it. At Server Basket, you are guaranteed to get a best-quality server under the reasonable pricing lane.
Prompt Technical Support:
Get round the clock technical assistance on any issues with your server. Our support team will be available through the live chat box, phone calls or emails. Our technical support team will respond quickly and resolve any server issue within no given time.
Instant Delivery in Bangalore:
Your server package will be delivered very quickly right at your location. We at Server Basket deliver to every nook and corner of the Bangalore under the estimated delivery date. Instant delivery will be done to all locations such as Marthahalli, CV Raman Nagar, Indiranagar and Whitefield Mysuru Road, BEML Layout, and Kengeri, Nagwara, Hennur, RT Nagar, Yelhanka, and Hebbal, Koramangala, JP Nagar, BTM Layout, Bannerghatta Road, Domlur ETC.
Frequently Asked Questions (FAQ's)
How effective are your rental servers?
Server Basket deals with only top-quality servers. We never trouble our clients with bogus hardware and products. Our server rental in Bangalore offers high-quality certified servers at the best server price in India and guarantees 100% efficient functionality and performance.
Do you offer any discounts on long-term rentals?
Users can buy servers in bulk or for long-term rentals and get benefited with special discounts on their server purchases online at SB. These discounts are offered on various server brands that include Dell, HP, IBM, Cisco, Super Micro, etc.,
Are your server rental services restricted to only Bangalore clients?
No, our server rental services are not restricted to Bangalore alone. If you are not a resident of Bangalore and are willing to rent servers from us, contact us to know about the server rental services available out of Bangalore.
What if I face performance issues with the server I rent? Will you replace it?
The servers you buy from us under the servers for rent in Bangalore category are thoroughly tested before dispatch. We ensure that they are physically and functionally efficient. But, if you still face issues with them, we'll replace them immediately.
Do you impose delivery charges on the rental servers?
No, if you buy server online from us under the Server rental Bangalore category, we don't impose any additional delivery charges. We guarantee that you'll receive the fully functional customized rental server you ordered within a day to your desired address.
Does the server customization option come with additional charges?
No, we don't charge you any extra amount for the customization done on the server you choose. Users can choose any model and configuration of the server rental and be able to customize it solely based on their work requirements.
Can I extend the rental plan in between if I need to?
Yes, you can. Server Basket allows users to upgrade the server configuration and extend the rental plan anytime you need. State your requirements to our technical team, and they will process your requests immediately without interrupting your regular workflows.