₹ 1,999.00 (-25%)
Multi-Access Tally On Cloud
Access From Any Location Remotely
Save Files To Cloud
Easy File Sharing
customized plans
Access via Desktop & iPad
Multiple Accounting Applications Supported
High-End Configuration
24/7 Tech Support
Description
VPS Hosting Plans for Tally on Cloud
VPS Hosting
TWVPS1
TWVPS2
TWVPS3
RAM
4 GB
8 GB
16 GB
Cores
2
4
6
Hard Disk
100 GB
200 GB
500 GB
Operating System
Windows Server 2012 / 2016 / 2019
STD Edition
Windows Server 2012 / 2016 / 2019
STD Edition
Windows Server 2012 / 2016 / 2019
STD Edition
Bandwidth
Unlimited
Unlimited
Unlimited
24/7/365 Support
yes
yes
yes
Price
1,499/-
2,999/-
3,999/-
Buy Now

Buy Now

Buy Now

Dedicated Hosting Plans for Tally on Cloud
Dedicated Hosting
TSBINDDSN1
TSBINDDSN2
TSBINDDSN3
RAM
32 GB
64 GB
64 GB
CPU
X5650
(6c/12t/2.66GHz)
2x X5650
(6c/12t/2.66GHz)
E5-2660
(8c/16t/2.20GHz)
Hard Disk
2x1.2TB SAS
(RAID1)
3x1.2TB SAS
(RAID5)
3x1.2TB SAS
(RAID5)
Bandwidth
Unlimited
Unlimited
Unlimited
24/7/365 Support
yes
yes
yes
Price
12,499/-
14,999/-
17,999/-
Buy Now

Buy Now

Buy Now

Is your company into the accounting and taxation business? Do you have a business with multiple branches and a large team of accountants? Are you facing issues in managing the tally application at your office premises? Overcome your problems by moving your Tally application into the cloud with the help of our expert team. Moving Tally to cloud would be very beneficial for your organization, especially during this Covid crisis when a lot of offices and their employees are preferring to work from home. If you maintain tally application at your office location, you may face maintenance related issues, be it related to power, bandwidth and server uptime or any other issue. But if you move your infrastructure to cloud, you don't have to worry about all these issues, and you'll be able to access Tally from any location using RDP. Tally on cloud allows you to select and use any version of Tally application.
The main advantage of Tally on cloud is you can use the Tally application from anywhere using any device, and only authorized people can access the data in it. Organizations with multiple branches can access Tally at the same time, eliminating the need for paying the license cost per user. You can activate the Indian Tally License as our data centers are located in India. Server Basket is providing Tally on cloud with unmetered bandwidth, 100% uptime assurance and 24/7 Tech support and reasonable and affordable price.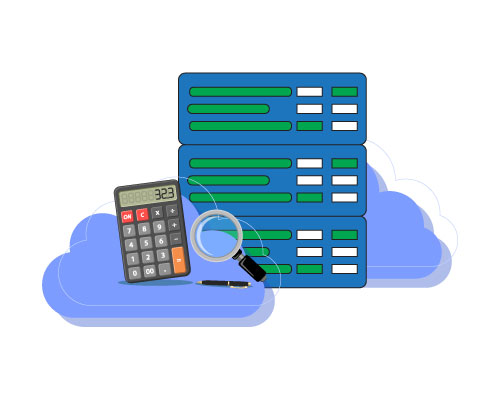 No matter how many employees are working in your accounts department, any number of users can access the tally application with Tally on cloud. It allows you to create an unlimited number of users to improve your business productivity. Whether your organization has single or multiple accountants, the data in the cloud can be accessed by all the accountants of your company. You can authorize access to unlimited users through remote access control. Tally on cloud is the budget friendly solution for businesses with multiple branches looking for a centralized tally that can be accessed from any location.
As effective monitoring of the servers is very crucial for ensuring 100% uptime, our professional team monitors your Tally cloud server 24/7 and keep you informed about any possible downtime. Undetected issues can leave your business in troubles, so we conduct security audits regularly to find out and fix the issues before they cause any major disruption. You don't need to pay anything for the maintenance of the server as Server Basket will handle it.
No downtime will be experienced at any point of time as our servers are backed by world-class hosting infrastructure in Tier 4 Datacenters. We know that nonstop availability of the Tally server is very crucial for your business. Server Basket guarantees that your Tally cloud servers will be 100 % available round the clock, so you can access the tally application along with the data saved in the server at any time.
Our Tally cloud hosting plans are not limited by bandwidth. We are offering unmetered bandwidth that enables you to upload/download any number of transaction-related files/invoices/ bank statements in the cloud without worrying about bandwidth limits. With no limitations on the bandwidth usage, any number of users can directly save the documents in the cloud so that anyone in the same organization can access them.
Whether you are at home, office, or some other place due to business traveling, Tally on the cloud allows you to access, work and record your financial transactions from any location. Choose our Tally on the cloud server and get any time access from the devices enabled with Linux, MAC, Windows, iOS, and other operating systems anytime, and from anywhere through RDP protocol.
Server Basket provides secure and reliable Tally cloud servers hosted in most advanced data centers. We use genuine and latest server hardware. So you'll never or rarely face any issues. But, if you have any questions or in case if something happens with the Tally cloud server, you can bring it to our notice through live chat, email, or phone. You will get immediate assistance from one of our experts.