₹ 55,000.00 (-4%)
IBM Servers Pricing List
IBM Servers Discount Price
Low Price Offers On IBM Servers
Best Deals On IBM Servers Compare Now
Complete IBM Rack, Tower, Blade Servers Price List is Available, Purchase IBM Servers to Create Storage Systems & Cloud Environment for Fast & Secure Access to the Data over Network. Check Out Pricing of All IBM Server Models Now and Order the Suitable IBM Server for your Business, Comes with Free 24/7 Tech Support & Fast Shipping All Over in India: Delhi, Mumbai, Pune,Lucknow, Hyderabad, Bangalore, Noida, Patna Etc
Description
Are you looking for innovative technologies, high-performing processors and memory capacities, smart and energy-efficient designs in servers? Do you want servers that give you well-balanced features for most of the general applications used for businesses? You will get all that you need in the very advanced and trusted IBM servers. Server Basket offers a huge range of IBM servers in all the form factors. IBM servers are well-known for and deliver a higher degree of power, manageability, scalability, and serviceability for the ever-changing web services and demanding business applications. The mid-range IBM iSeries servers cater to the SMB's business needs perfectly. You can find a variety of IBM servers listed on our website, along with their best features and specifications. Each IBM server price listed here gives you a clear idea of what we have in store for you. You can conveniently compare and choose the best server for your business. You can also customize the server configurations according to your requirements. The servers from us come with an assured seller warranty, and we provide around the clock technical assistance. We deliver IBM servers securely all over India.
Also Check the Different Type of IBM Servers Tower, Rack and Blade Server
Below Datasheet having all IBM Server Price List Check Out now.
IBM Lenovo Tower Servers Price List:
| Server Model No. | Description | Price | Buy Now |
| --- | --- | --- | --- |
| IBM Lenovo TS150 Server | IBM ThinkServer TS150 Tower Server With Max. Processor 1 x Intel Xeon E3 (Quad Core) E3-1225 v5"(3.3 GHz /Cache 8 MB)/ STD MEMORY 8GB X 1/ MAX. MEMORY 64GB 4 Slots/HARD DRIVE 1 X 1TB SATA 3.5" 7.2k SATA / STD. HDD BAY/ 3 bay MAX. HDD BAY upto 4 x 3.5" +1 x 2.5" bay/ OPTICAL Multi Burner/Integrated RAID 0,1,5,10 (RAID 121i). Supports only SATA drives/Power Supply Standard (Inbuilt) 1 x 250W/ 3 Yrs Onsite Warranty | 46199 | Buy Now |
| IBM Lenovo TS 450 Server | Lenovo ThinkServer TS450 Server ( 70M2001UIH )With 1 x Intel Xeon E3 (Quad Core) E3-1225 v5 (3.3 GHz /8 MB) Processor/ STD MEMORY 8GB X 1 MAX. MEMORY 64GB; 4 DIMM Slots/"HARD DRIVE 1 X 1TB SATA 3.5" 7.2k SATA (STD. HDD BAY 3 bay / MAX. HDD BAY upto 4x3.5")/ OPTICAL Multi Burner/ Integrated RAID 0,1,5,10 (RAID 121i).Supports only SATA drives/ Power Supply Standard (Inbuilt)1 x 450W Power Supply Max: 2 Additional Mangement Tools: Lenovo XClarity Administrator/ 3 Yrs Onsite WARRANTY | 73099 | Buy Now |
| IBM Lenovo TS 450 Server | Lenovo ThinkServer TS450 (PN:70M2001VIH) With Max. Processor 1 x Intel Xeon E3 (Quad Core) E3-1225 v5"(3.3 GHz /Cache 8 MB)/ STD MEMORY 8GB X 1 MAX. MEMORY 64GB; 4 DIMM Memory Slots/ HARD DRIVE Open Bay/ 2.5" SAS/SATA HS Bays (8 bay MAX. HDD BAY upto 8 x 2.5" bay MAX. HDD BAY upto 16x2.5")/OPTICAL Multi Burner/ PCIe RAID 0,1,10 (RAID 520i). Supports SAS & SATA drives/Power Supply Standard (Inbuilt) 1 x 450W Power Supply /Max: 2 Additional Mangement Tools : Lenovo XClarity Administrator/ 3 Yrs Onsite WARRANTY | 76399 | Buy Now |
| IBM Lenovo RS160 ThinkServer | Lenovo ThinkServer RS160 1U server with Max. Processor 1 x Intel Xeon E3 (Quad Core) E3-1225 v5"(3.3 GHz /Cache 8 MB)/ STD MEMORY 8GB X 1 MAX. MEMORY 64GB; 4 DIMM Slots/ HARD DRIVE Open Bay/ 3.5" SAS/SATA HS Bays 2 bay MAX. HDD BAY / OPTICAL Multi Burner/ Integrated RAID 0,1(RAID 121i). Supports only SATA drives/ Power Supply Standard (Inbuilt) 1 x 300W Power Supply / Max: 1 Additional Mangement Tools : Lenovo XClarity Administrator\ 3 Yrs Onsite WARRANTY | 57399 | Buy Now |
| IBM Lenovo TD350 Server | IBM Lenovo New ThinkServer TD350 (PN:70DJA029IH) Tower Server With 1 x Intel® Xeon® E5-2620v4 (2.1GHz/8C/20MB/85W/2133Mhz)/Max: 2 STD MEMORY 16GB X 1/ MAX. MEMORY 1 TB /16 DIMM Slots/ HARD DRIVE Open Bay (2.5" HOT Swap SAS/SATA STD. HDD BAY 8 bay MAX. HDD BAY upto 32 bays)/OPTICAL Multi Burner/ Integrated RAID 0,1,10 (RAID 510i) Supports SAS & SATA Drives/Power Supply Standard (Inbuilt) 1 x 550W Power Supply Max: 2/ 3 Yrs Onsite. Warranty | 1,46,899 | Buy Now |
| IBM Lenovo TD350 Server | IBM Lenovo ThinkServer TD350 (PN:70DG007TIH) Tower Server with 1 x Intel® Xeon® E5-2609v4 (1.7GHz/8C/20MB/85W/1866Mhz) Max: 2 processors/ STD MEMORY 8GB X 1/ MAX. MEMORY 1 TB /16 DIMM Slots/ HARD DRIVE 1x1TB SATA (3.5" Easy Swap Bay SATA STD. HDD BAY 5 bay MAX. HDD BAY upto 5 bays) / OPTICAL Multi Burner/ Integrated RAID 0,1,10 (RAID 110i). Supports only SATA drives/Power Supply Standard (Inbuilt) 1 x 550W Power Supply Max: 2/Additional Mangement Tools : Lenovo XClarity Administrator/3 Yrs Onsite WARRANTY | 1,09,699 | Buy Now |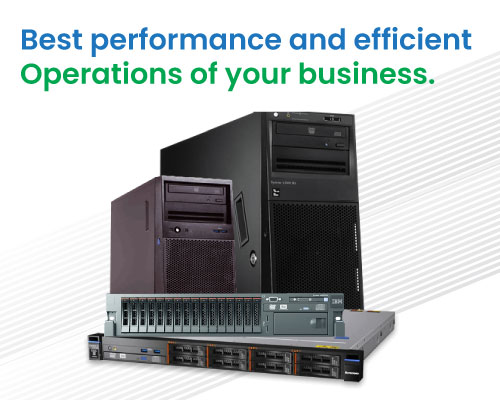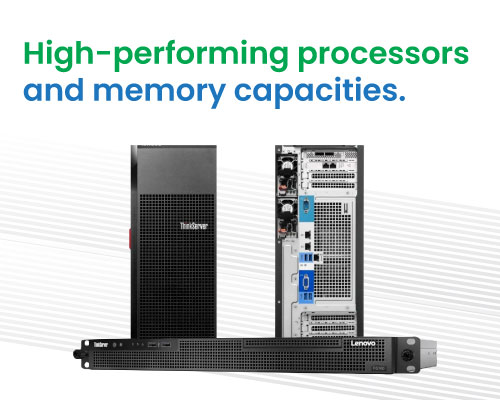 IBM Servers Price List:
| Model Name | Specifications | Price | Buy Now |
| --- | --- | --- | --- |
| IBM X3100 | IBM X3100 Tower Server,Withx3100 M5 / Part NO:5457IYA,Intel Xeon E3 1230v2 3.1 GHz, 8 MB,1600 MHz, 1x 4GB RAM,1x1 TB SATA 7200 RPM HDD, 3.5" Simple-Swap,MULTI BURNER, 3Yrs Onsite Warranty | Rs. 57,855 | Buy Now |
| IBM TS 140 | IBM TS140 Tower Server (Part NO:70A40072IH ) With / Intel Xeon E3 1220v2 3.2 GHz,8 MB,1600 MHz / 1x 4GB RAM/ 1x1 TB SATA 7200 RPM HDD/3.5" Simple-Swap/ MULTI BURNER/ 3Yrs Onsite Warranty | Rs. 47,174 | Buy Now |
| IBM X3250 M5 | IBM X3250 M5Server Withx3250M5/ Part NO:5458IVA/ Intel Xeon E3 1230v2 3.1 GHz, 8 MB,1333MHz / 1x 4GB RAM/ 1x500GB SATA 7200 RPM HDD/ 3.5" Simple-Swap/ 3Yrs Onsite Warranty | Rs. 67,834 | Buy Now |
| IBM X3300 M4 | IBM X3300M4 Server With x3300M4/ Part NO:7382ILA / Intel Xeon E5 1230v2 2.2 GHz,10 MB,1066MHz/ 1x 8GB RAM/ 1x300GB SAS10k RPM HDD / 2.5" Hot-Swap / MULTI BUTRNER / 3Yrs Onsite Warranty | Rs. 120,007 | Buy Now |
| IBM X3300 M4 | IBM X3300M4 Server With x3300M4/ Part NO:7382IA4/ Intel Xeon E5 1230v2 1.8 GHz,10 MB,1066MHz/ 1x 8GB RAM/ 1x500GB SATA HDD/ 3.5Simple-Swap/ MULTI BUTRNER / 3Yrs Onsite Warranty | Rs. 99,759.6 | Buy Now |
| IBM X3500M5 | IBM X3500M5Server Withx3500M5/ Part NO:5464PBC/ Intel Xeon E5 2620v3 2.4 GHz,15 MB,1866MHz /1x 16GB RAM / 1x500GB SATA HDD/ 3.5Simple-Swap/ MULTI BUTRNER / 3Yrs Onsite Warranty | Rs. 175,281 | Buy Now |
| IBM X3250 M4 | IBM X3250M4 Server with Part no: 25831EA/ Intel Xeon E3 1200v2, 8GB RAM / 1TB SATA Hard disk / 3yrs Onsite Warranty | Rs. 67,500 | Buy Now |
| IBM X3100 M4 | IBM X31000M4 Server with Part no: 258219b / Intel Xeon E3 1200v2/ 8GB RAM, 1TB Hard disk/ 3yrs Onsite Warranty | Rs. 88,560 | Buy Now |
| IBM X3100 M5 | IBM X3100M5 Server with Part no: 54571YA/ Intel Xeon E3 1200v2/ 32GB RAM, 24TB Hard disk/ processor speed 3.30GHZ/ 3yrs Onsite Warranty | Rs. 102,600 | Buy Now |
| IBM X3650 M5 | IBM X3650M5 Server with Part no: 54620UH / Intel Xeon E5 2690v3 / 16GB RAM, 300GB SAS Hard disk/ 3yrs Onsite Warranty | Rs. 159,000 | Buy Now |
| IBM X3650 M4 | IBM X3650M4 Server with Part no: 79154L9 / two 12 - core Intel Xeon E5 (Hexa Core) 2.1 GHz 15 MB 1600 MHz / 16 GB RAM, 300GB Hard disk / 3yrs Onsite Warranty | Rs. 193,980 | Buy Now |
| IBM X 3630 M4 | IBM X3630M4 Server with Part no: 71581vc/ Intel Xeon E5 2407/ 8GB RAM, 1X1TB Hard disk/ 3yrs Onsite Warranty | Rs. 104,760 | Buy Now |
| IBM HS 23 | IBM HS23 Server with Part no: 7875106/ Intel Xeon E5 2600v2 / 8GB RAM, 1x1TB Hard disk/ 3yrs Onsite Warranty | Rs. 111,300 | Buy Now |
| IBM 3550 M4 | IBM X3550M4 Server with Part no: 79141JA/ Intel Xeon E5 2609v3 / 8GB RAM, 1TB Hard disk/ 3yrs Onsite Warranty | Rs. 127,200 | Buy Now |
| IBM 3630 M4 | IBM X3630M4 Server with Part no: 71581UC / Intel Xeon 2400v2 / 8GB RAM, 1x1TB Hard disk/ 3yrs Onsite Warranty | Rs. 150,520 | Buy Now |
| IBM 3500 M4 | IBM X3500M4 Server with Part no: 738313A / Intel Xeon E5 2620 / 8GB RAM, 1x1TBTB Hard disk/ 3yrs Onsite Warranty | Rs. 159,000 | Buy Now |
| IBM 3650 M4 | IBM X3650M4 Server with Part no: 791514A / Intel Xeon E5 2620 / 8GB RAM, 1x300GB SASHard disk/ 3yrs Onsite Warranty | Rs. 190,800 | Buy Now |
| IBM 3500 M4 | IBM X3500M4 5U Server with Intel Xeon E5 2603 v3 / 8GB RAM, 1TB Hard disk/ 3yrs Onsite Warranty | Rs. 233,200 | Buy Now |
| IBM RD 450 | IBM Lenovo ThinkServer RD450 Rack Server (PN:70Q90059IH) with 1 x Intel® Xeon® E5-2620v4 (2.1GHz/8C/20MB/85W/2133Mhz)/Max: 2 Processors/ STD MEMORY 16GB X 1 MAX. MEMORY 1 TB ;16 Slots/ HARD DRIVE : Open Bay (2.5" HOT Swap SAS/SATA STD. HDD BAY 8 bay / MAX. HDD BAY 16 bay with optical bay/24 bay without optical bay) / OPTICAL Multi Burner/ Integrated RAID 0,1,10 (RAID 110i). Supports only SATA drive/ Power Supply Standard (Inbuilt) 1 x 750W Power Supply Max: 2/ Additional Mangement Tools : Lenovo XClarity Administrator/ 3 Yrs Onsite WARRANTY | Rs. 1,29,499 | Buy Now |
| IBM RD 450 | IBM Lenovo ThinkServer RD450 Rack Server (PN:70QQ002EIH) With 1 x Intel® Xeon® E5-2609v4 (1.7GHz/8C/20MB/85W/1866Mhz)/Max: 2 Processors/ STD MEMORY 16GB X 1 MAX. MEMORY 1 TB ;16 Slots/ HARD DRIVE Open Bay (3.5" Hot Swap Bay SATA STD. HDD BAY 8 bay MAX. HDD BAY upto 8 bays) / OPTICAL Multi Burner/ Integrated RAID 0,1,10 (RAID 110i). Supports only SATA drive/ Power Supply Standard (Inbuilt) 1 x 750W Power Supply Max: 2/ Additional Mangement Tools : Lenovo XClarity Administrator/ 3 Yrs Onsite WARRANTY | Rs. 1,16,899 | Buy Now |