Description
Dedicated Server Hosting Pricing Options
| Product id | PROCESSOR | Cores / Threads | STORAGE | RAM | BANDWIDTH | Price/Month | Buy Now |
| --- | --- | --- | --- | --- | --- | --- | --- |
| SBINDDS-1 | 1 x E5-2620 | 6C / 12T | 2 x 500 GB SSD With RAID 1 | 32GB DDR3 | Unlimited | Rs. 6,499/- | Get 30 Days Free Trial |
| SBINDDS-2 | 1x E5-2670 V2 | 10C / 20T | 2 x 500 GB SSD With RAID 1 | 32GB DDR3 | Unlimited | Rs. 8,499/- | Get 30 Days Free Trial |
| SBINDDS-3 | 1x E5-2670 V2 | 10C / 20T | 2 x 1TB SSD With RAID 1 | 48GB DDR3 | Unlimited | Rs. 9,999/- | Get 30 Days Free Trial |
| SBINDDS-4 | 2 x E5-2670 V2 | 20C / 40T | 3 x 1TB SSD With RAID 5 | 64GB DDR3 | Unlimited | Rs. 12,499/- | Get 30 Days Free Trial |
| SBINDDS-5 | 2 x E5-2670 V2 | 20C / 40T | 2 x 500GB SSD for OS RAID 1 / 3 x 1TB SSD RAID 5 | 128GB DDR3 | Unlimited | Rs. 15,999/- | Get 30 Days Free Trial |
| SBINDDS-6 | 2 x E5-2696 V2 | 24C / 48T | 2 x 500GB SSD for OS RAID 1 / 3 x 1TB SSD RAID 5 | 256GB DDR3 | Unlimited | Rs. 19,999/- | Get 30 Days Free Trial |
| SBINDDS-7 | 2 x E5-2673 V3 | 24C / 48T | 2 x 500GB SSD for OS RAID 1 / 3 x 2TB SSD RAID 5 | 512GB DDR4 | Unlimited | Rs. 27,999/- | Get 30 Days Free Trial |
| SBINDDS-8 | 2 x E5-2696 V3 | 36C / 72T | 2 x 500GB SSD for OS RAID 1 / 4 x 2TB SSD RAID 5 | 512GB DDR4 | Unlimited | Rs. 34,999/- | Get 30 Days Free Trial |
| SBINDDS-9 | 2 x E5-2696 V4 | 44C / 88T | 2 x 500GB SSD for OS RAID 1 / 4 x 2TB SSD RAID 5 | 512GB DDR4 | Unlimited | Rs. 44,999/- | Get 30 Days Free Trial |
| SBINDDS-10 | 2 x Intel Gold 6148 | 40C / 80T | 2 x 500GB SSD for OS RAID 1 / 4 x 2TB SSD RAID 5 | 512GB DDR4 | Unlimited | Rs. 54,999/- | Get 30 Days Free Trial |
| SBINDDS-11 | 2 x AMD EPYC 7742 | 128C / 256T | 2 x 500GB SSD for OS RAID 1 / 4 x 2TB SSD RAID 5 | 1TB DDR4 | Unlimited | Rs. 99,999/- | Get 30 Days Free Trial |
Are you planning to migrate your website or application to a dedicated server hosting? Looking for the best hosting provider and the dedicated server cost in India? Then you have come to the right place, Server basket provides cost-effective dedicated server hosting which gives you ultimate power, speed, and security to run your website or application.  The cost of our fully managed dedicated server hosting is very low when compared to any other hosting service provider in India.
We have a huge range of dedicated hosting plans with various operating systems such as Windows, Linux, etc., and various specifications. Our dedicated server cost depends upon the type of OS and the resources you choose. Along with unlimited bandwidth, scalable resources, 100% uptime guarantee, we also provide free tech support for all dedicated server hosting packages.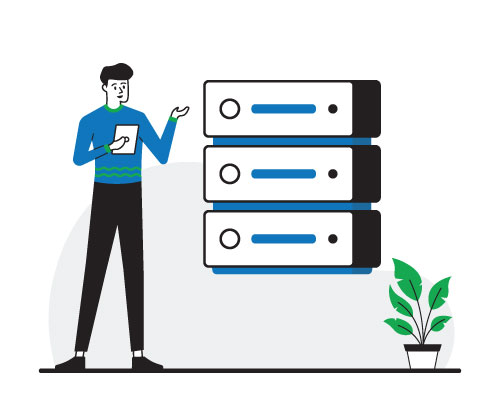 No matter what plan you choose, our dedicated server hosting cost is the best, and the lowest one in the market and comes with no extra hidden charges. We maintain a detailed list of dedicated hosting prices with configurations and on our website for easy comparison and selection. We charge only for Indian dedicated server setup and the resources you choose, we don't impose extra charges other than taxes. We do offer an exclusive 30 days trial period at free of cost to satisfy our customer expectations.
Are you searching for low priced dedicated hosting plans in India? We have cost-effective Indian dedicated server plans with quite cheaper monthly and yearly packages. We have the cheapest dedicated hosting price options when compared to other online server vendors. We offer the best buy option for extensive users at discounted monthly packages. Buy now to avail the most exciting discount offers on server plans.
We are offering an exclusive 30 days free server hosting that lets you enjoy our affordable Indian dedicated server features. If you are well satisfied with the performance, speed, support, and security, you can contact us to select a plan according to your business requirements. In any case, if you are unfortunately not satisfied with our services, you can quit at no additional charges.
Server Basket provides you affordable dedicated servers with an unparalleled level of security via high-end firewalls with a multi-layered architecture, 24/7 security monitoring, and alerting using IPS&IDS systems. Buy dedicated server with inbuilt IPS security that protects your network from potential threats and monitors network traffic. We ensure to safeguard your website or business network firewalls and anti-virus, so you don't need to worry about network attacks with our dedicated servers.
Our affordable dedicated servers are hosted on Tier 4 Datacenters in India to serve your large enterprises. The local Tier 4 data centers, offer low latency, multiple layers of redundancy, including physical security. These data centers are built with high-end infrastructure and fully redundant subsystems, including power, storage, cooling, and network links. Dedicated servers hosted on tier 4 Data Centers offer high security.
We promise to offer 100% server uptime to your website or business application, ensuring optimal productivity without any interruption to your clients or visitors. Power up your business and keep your application up and running 24/7 without any downtime issues. Even though there is no chance of downtime, Incase if any unexpected downtime occurs, we immediately resolve it within a few minutes, causing no discomfort to you or to your visitors. Purchase Indian dedicated server on our website to enjoy 100% uptime round the clock.
We have a professionally certified team to offer unlimited customer support 24/7 on live chat or phone. Our technical team offer reactive support and work round the clock to resolve unlimited Administration tickets from you. We promise to offer a response within 15 minutes for support tickets and guarantee to resolve them within 24 hours.
Whether if there is an issue with our affordable dedicated server hosting, our technical support team is here for you literally to help all the time. We have a team of experienced tech support engineers who will help you resolve issues with your affordable dedicated server. We are available 24/7, so you can contact us anytime via live chat, phone, and email. You will receive a quick reply from our team.