Dedicated Gaming Servers Hosting
₹ 7,999.00 (-13%)
Fully Managed
High Performance For Dedicated Gaming Hosting
Bullet Proof Security For Gaming Server Hosting
100 % Up-time
Money Back Guaranty within 30 days
Free Game Server Hosting Monitoring
Install choice of the gaming control panel
Online Bandwidth Monitoring
24/7 Support (Live Chat, Phone Support)
Upgrade/Downgrade Server Configuration
Exclusive of Taxes
Description
Low-Cost Dedicated Gaming Servers Hosting Plans in India
Plan ID
Processor
Cores / Threads
RAM
Storage
Bandwidth
Price/Month
Buy Now
DS-1
1 x E5-2620
6C / 12T
32GB DDR3
2 x 500GB SSD with RAID 1
Unlimited
Rs. 6,999/-

Get 30 Days Free Trial
Live Chat Now

DS-2
1 x E5-2650 v2
8C / 16T
32GB DDR3
2 x 500GB SSD with RAID 1
Unlimited
Rs. 7,999/-

Get 30 Days Free Trial
Live Chat Now

DS-3
1 x E5-2680 v3
12C / 24T
64GB DDR4
2 x 1TB SSD with RAID 1
Unlimited
Rs. 11,999/-

Get 30 Days Free Trial
Live Chat Now

DS-4
1 x E5-2680 v3
12C / 24T
128GB DDR4
3 x 1TB SSD with RAID 5
Unlimited
Rs. 14,999/-

Get 30 Days Free Trial
Live Chat Now

DS-5
2 x E5-2680 v3
24C / 48T
256GB DDR4
2 x 500GB SSD for OS RAID 1 / 2 x 1.92TB SSD RAID 1
Unlimited
Rs. 19,999/-

Get 30 Days Free Trial
Live Chat Now

DS-6
2 x E5-2680 v3
24C / 48T
384GB DDR4
2 x 500GB SSD for OS RAID 1 / 3 x 1.92TB SSD RAID 5
Unlimited
Rs. 24,999/-

Get 30 Days Free Trial
Live Chat Now

DS-7
2 x E5-2696 v3
36C / 72T
384GB DDR4
2 x 500GB SSD for OS RAID 1 / 3 x 1.92TB SSD RAID 5
Unlimited
Rs. 29,999/-

Get 30 Days Free Trial
Live Chat Now

DS-8
2 x E5-2696 v3
36C / 72T
512GB DDR4
2 x 500GB SSD for OS RAID 1 / 4 x 1.92TB SSD RAID 5
Unlimited
Rs. 34,999/-

Get 30 Days Free Trial
Live Chat Now

DS-9
2 x E5-2696 v4
44C / 88T
512GB DDR4
2 x 500GB SSD for OS RAID 1 / 4 x 1.92TB SSD RAID 5
Unlimited
Rs. 39,999/-

Get 30 Days Free Trial
Live Chat Now

DS-10
2 x Intel Gold 6148
40C / 80T
512GB DDR4
2 x 500GB SSD for OS RAID 1 / 4 x 1.92TB SSD RAID 5
Unlimited
Rs. 54,999/-

Live Chat Now

DS-11
2 x AMD EPYC 7742
128C / 256T
1TB DDR4
2 x 500GB SSD for OS RAID 1 / 4 x 1.92TB SSD RAID 5
Unlimited
Rs. 99,999/-

Live Chat Now
Buy Dedicated Game Server Hosting At Lowest Price With Fully Managed, Low Latency And 100 % Up Time, Unlimited Bandwidth, Dedicated IPs.
Buy Dedicated Game Server Hosting at lowest Price in India, with high-end security and top performance. We offer fully managed dedicated gaming server hosting plans with enabled DDoS security, unlimited bandwidth, free server management, 100% uptime, round the clock technical support, dedicated IPs etc.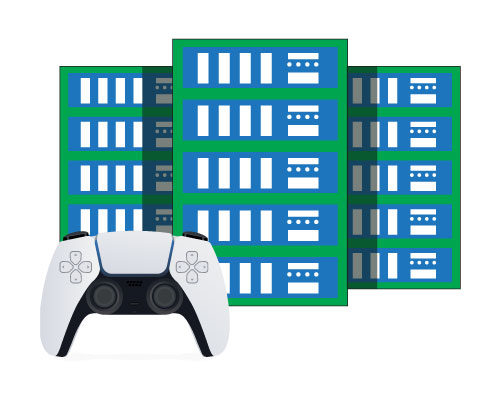 Our experienced technical team will manage your dedicated Gaming server Hosting round the clock for any glitches and strive to resolve them in the initial stage without hampering your gaming operations. In addition, our team will manage your server hardware and other applications while you focus on your business tasks.
You can get small to extra-large size dedicated gaming servers hosting. The gaming servers come with quad core processor, 32 GB ram, and a gaming control panel which ensures the high performance of your gaming website. This helps you to retain the existing gamers and grab the attention of new gaming fanatics.
We do not let the dedicated gaming servers hosting and your business goes into oblivion. We maintain 100% up-time and make sure that your site is online all the time. In fact, when this gaming server hosting is under maintenance, then we use the backup server to make your site accessible on the internet by the web users.
If you are not happy with our dedicated gaming server hosting services, then we refund the full amount. We assure you that every time you spent on our hosting service is worth it. However, you can try out the best gaming server hosting plan and game servers by walking through our site, since your money is in safe hands.
We protect the dedicated gaming servers hosting from security vulnerabilities and DDoS attacks by using advanced security technologies, firewall mechanisms and provide continuous operation of your gaming sites besides providing competitive gaming experience for your website visitors.
Our experienced and adroit NOC team will monitor your dedicated gaming server hosting performance, bandwidth, storage space, and other security activities 24/7 round the clock. They detect the glitches and troubleshoot them in the initial stage before the situation gets worse without fail.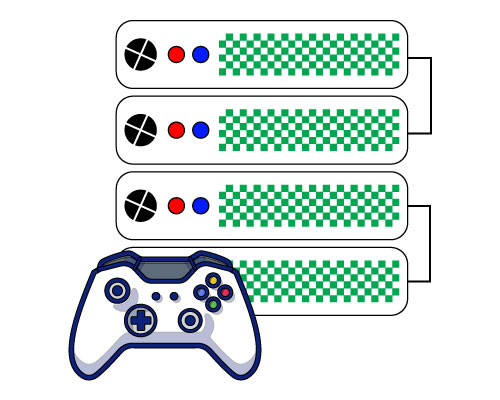 Specification
Additional information
| | |
| --- | --- |
| Type of OS | VM Ware, Windows, Linux |
| Max RAM | 128 GB, 16GB, 256 GB, 32 GB, 512 GB, 64 GB, 8GB |
| Max Storage | 1 TB, 2 TB, 4 TB, 8 TB, 12 TB, 24TB |
| Type of Storage | SAS, SATA, SSD |
| Data Center Location | INDIA, USA |
| Remote Management | Yes |
| Type Of Hosting | Managed Dedicated Server |