High-Quality Entry-level Rack Servers
Best Servers For Start-ups
Computing Solutions
Redundant Power Supplies
High-performance Solutions
Ready for Scalable
Risk-free 3 Years AMC
Low Price Guarantee
Shipping Charges depends on location
24×7 Tech Support
Exclusive of Taxes

Buy Entry-level Supermicro Storage Servers with High-End CPU at Best Price in India
Supermicro 1U 4 LFF Rack Server Price List
Server Type
Specifications
Price
Buy
Supermicro 1U 4 LFF Rack Server
(Basic)

Supermicro 4LFF 1U rack server with X10DRW-it Mother Board/ CSE-815 4LFF Chassis with 12 Core/ Processor ( single Intel® Xeon Processor E5-2673v3 /2.30 GHz/20-core/50 MB /135 W) / 128GB (4X32GB) PC4 DDR4 ECC Registered Server Memory /4 LFF/ 2 x 480GB Hot Plug SATA SSD / intel@ C612 RAID Controller (Raid SATA:0,1,5,10) Support /2 PCIe Slots/ 2X Intel® X540 10G T Ethernet Ports /dedicated IPMI 2.0/ Hot Plug| Non Swap single 600W Power supply/ universal rail kits

Buy Now
Supermicro 1U 4 LFF Rack Server
(Standard)

Supermicro 4LFF 1U rack server with X10DRW-it Mother Board/ CSE-815 4LFF Chassis with 24 Core/ Processor ( Dual Intel® Xeon Processor E5-2673v3 /2.30 GHz/20-core/50 MB /135 W) / 128GB (4X32GB) PC4 DDR4 ECC Registered Server Memory /4 LFF/ 2 x 480GB Hot Plug SATA SSD /2 x 2TB 3.5-inch 7.2K RPM, 6Gbps SATA Hot Plug Enterprise Hard Drives / intel@ C612 RAID Controller (Raid SATA:0,1,5,10) Support /2 PCIe Slots/ 2X Intel® X540 10G T Ethernet Ports /dedicated IPMI 2.0/ Hot Plug| Non Swap single 600W Power supply/ universal rail kits

Buy Now
Supermicro 1U 4 LFF Rack Server
(Reliable)

Supermicro 4LFF 1U rack server with X10DRW-it Mother Board/ CSE-815 4LFF Chassis with 36 Processor (Dual Intel® Xeon Processor E5-2696v3 /2.30 GHz/20-core/50 MB /135 W) / 256GB (8X32GB) PC4 DDR4 ECC Registered Server Memory /4 LFF/ 2 x 480GB Hot Plug SSD / intel@ C612 RAID Controller (Raid SATA:0,1,5,10) Support /2 PCIe Slots/ 2X Intel® X540 10G T Ethernet Ports /dedicated IPMI 2.0/ Hot Plug| Non Swap single 600W Power supply/ universal rail kits

Buy Now
Supermicro 1U 4 LFF Rack Server
(Powerful)

Supermicro 4LFF 1U rack server with X10DRW-it Mother Board/ CSE-815 4LFF Chassis with 40 Core ( Dual Intel® Xeon Processor E5-2696v4 /2.30 GHz/20-core/50 MB /135 W) / 256GB (8X32GB) PC4 DDR4 ECC Registered Server Memory /4 LFF/ 2 x 480GB Hot Plug SSD / intel@ C612 RAID Controller (Raid SATA:0,1,5,10) Support /2 PCIe Slots/ 2X Intel® X540 10G T Ethernet Ports /dedicated IPMI 2.0/ Hot Plug| Non Swap single 600W Power supply/ universal rail kits

Buy Now
Supermicro 1U 10 SFF Rack Server Price List
Server Type
Specifications
Price
Buy
Supermicro 10SFF 1U Rack Server
(Basic)

Supermicro 10SFF 1U Rack Server with X11DPU-XLL Mother Board/ CSE-119U 10SFF Chassis with 20 Core/ Processor (single Intel® Xeon® Gold 6148 /2.40 GHz/20-core/27.5 MB /150 W) / 128GB PC4 DDR4 ECC Registered Server Memory /10 LFF/ 2 x 480GB Hot Plug SATA SSD / AoC-S3108L-H8iR-16DD RAID Controller (Raid :0,1,5,10 Support) /2 PCIe Slots/ Dedicated IPMI 2.0/ Hot Plug| Hot Swap single 600W Power supply/ universal rail kits

Buy Now
Supermicro 10SFF 1U Rack Server
(Standard)

Supermicro 10SFF 1U Rack Server with X11DPU-XLL Mother Board/ CSE-119U 10SFF Chassis with 40 Core/ Processor (Dual Intel® Xeon® Gold 6148 /2.40 GHz/20-core/27.5 MB /150 W) / 128GB PC4 DDR4 ECC Registered Server Memory /10 LFF/ 2 x 480GB Hot Plug SATA SSD / AoC-S3108L-H8iR-16DD RAID Controller (Raid :0,1,5,10 Support) /2 PCIe Slots/ Dedicated IPMI 2.0/ Hot Plug| Swap single 600W Power supply/ universal rail kits

Buy Now
Supermicro 2U 8 LFF Rack Server Price List
Server Type
RAM
Processor
Storage
Price
Supermicro 8LFF 2U Rack Server
(Basic)
64GB DDR3 (8 x 8GB)
2 x Intel Xeon E5-2696 v2 / 24 Core, 48 vCPU
600GB SAS HDD (2 x 300GB) / 9TB SAS HDD (3 x 3TB)
Supermicro 2U 10 LFF Rack Server Price List
Server Type
Specifications
Price
Buy
Supermicro 2U 10 LFF Rack Server
(Basic)

Supermicro 10 LFF 2U rack server (X9DRW-7TPF+ Mother Board/ CSE-829 10 LFF Chassis) with 20 Core CPU( Intel® Xeon Processor E5-2670 v2 , 2.40 GHz/10-core/25MB/115W) / 64GB (8X8GB) PC3 DDR3 ECC Registered Server Memory /8 LFF/ 1 x 256GB PCIe SSD /10 x 2TB 3.5-inch 7.2K RPM, 6Gbps SAS Hot Plug Enterprise Hard Drives/ LSI 9271-8i 6GBPS RAID Controller (Raid 0,1,5) Support /2 PCIe Slots/ 2X10Gb Network Lan Ports /Hot Plug| Hot Swap dual 920W Power supply/ universal rail kits

Buy Now
Supermicro 2U 10 LFF Rack Server
(Standard)

Supermicro 10 LFF 2U rack server (X9DRW-7TPF+ Mother Board/ CSE-829 10 LFF Chassis) with 20 Core CPU( Intel® Xeon Processor E5-2670 v2 , 2.40 GHz/10-core/25MB/115W) / 64GB (8X8GB) PC3 DDR3 ECC Registered Server Memory /8 LFF/ 1 x 256GB PCIe SSD /10 x 4TB 3.5-inch 7.2K RPM, 6Gbps SAS Hot Plug Enterprise Hard Drives/ LSI 9271-8i 6GBPS RAID Controller (Raid 0,1,5) Support /2 PCIe Slots/ 2X10Gb Network Lan Ports /Hot Plug| Hot Swap dual 920W Power supply/ universal rail kits

Buy Now
Supermicro 2U 10 LFF Rack Server
(Reliable)

Supermicro 10 LFF 2U rack server (X9DRW-7TPF+ Mother Board/ CSE-829 10 LFF Chassis) with 20 Core CPU( Intel® Xeon Processor E5-2670 v2 , 2.40 GHz/10-core/25MB/115W) / 64GB (8X8GB) PC3 DDR3 ECC Registered Server Memory /8 LFF/ 1 x 256GB PCIe SSD /10 x 6TB 3.5-inch 7.2K RPM, 12Gbps SAS Hot Plug Enterprise Hard Drives/ LSI 9271-8i 6GBPS RAID Controller (Raid 0,1,5) Support /2 PCIe Slots/ 2X10Gb Network Lan Ports /Hot Plug| Hot Swap dual 920W Power supply/ universal rail kits

Buy Now
Supermicro 2U 10 LFF Rack Server
(Powerful)

Supermicro 10 LFF 2U rack server (X9DRW-7TPF+ Mother Board/ CSE-829 10 LFF Chassis) with 20 Core CPU(Intel® Xeon Processor E5-2670 v2 , 2.40 GHz/10-core/25MB/115W) / 64GB (8X8GB) PC3 DDR3 ECC Registered Server Memory /8 LFF/ 1 x 256GB PCIe SSD /8 x 12TB 3.5-inch 7.2K RPM, 12Gbps SAS Hot Plug Enterprise Hard Drives/ LSI 9271-8i 6GBPS RAID Controller (Raid 0,1,5) Support /2 PCIe Slots/ 2X10Gb Network Lan Ports /Hot Plug| Hot Swap dual 920W Power supply/ universal rail kits

Buy Now
Supermicro 4U 36 LFF rack server Price List
Server Type
Specifications
Price
Buy
Supermicro 36 LFF 4U Rack Server
(Basic)

Brand New Supermicro 36 LFF 4U rack server (X10DRH-CT Mother Board/ CSE-847 36 LFF Chassis ) 24 Core CPU ( Dual Intel® Xeon®Processor E5-2673 v3 (2.50 GHz/12-core/30MB/120W)/ 64GB (8X8GB) PC3 DDR4 ECC Registered Server Memory /36 LFF/ 2 x 480GB Hot Plug SSD /34X 6TB 3.5-inch 7.2K RPM, 12Gbps SAS Hot Plug Enterprise Hard Drives /LSI 9361 -8i 12GBPS RAID Controller (Raid 0,1, 5,10) Support /2 PCIe Slots/ 2X 1Gb Network Lan Ports /Hot Plug| Hot Swap dual 1400W Power supply/ universal rail kits

Buy Now
Supermicro 36 LFF 4U Rack Server
(Standard)

Supermicro 36 LFF 4U rack server (X10DRH-CT Mother Board/ CSE-847 36 LFF Chassis ) 24 Core CPU ( Dual Intel® Xeon®Processor E5-2673 v3 (2.50 GHz/12-core/30MB/120W)/ 64GB (8X8GB) PC3 DDR4 ECC Registered Server Memory /36 LFF/ 2 x 480GB Hot Plug SSD /34X 12TB 3.5-inch 7.2K RPM, 12Gbps SAS Hot Plug Enterprise Hard Drives /LSI 9361 -8i 12GBPS RAID Controller (Raid 0,1, 5,10) Support /2 PCIe Slots/ 2X 1Gb Network Lan Ports /Hot Plug| Hot Swap dual 1400W Power supply/ universal rail kits

Buy Now

Buy SuperMicro servers with high-end configurations and super storage at the server basket online store at cheap prices. We present you the excellent high end SuperMicro servers supported with new Intel Xeon scalable processors delivering the high level of quality performance to HPC, enterprise, cloud, data center, and high-end server applications. We are authorized local resellers and distributors of SuperMicro servers offering guaranteed warranty and technical support. Visit our website to find an exclusive range of genuine SuperMicro servers at the lowest prices.
Configure your Own:
we present you an amazing option to configure your own SuperMicro servers relevant to your business workloads. You can design customized CPU, Memory and hard drive configurations to offer high end flexible and scalable SuperMicro server to your organization. Our comprehensive range of rack, tower and blade workstations features superior product design and supreme performance with efficiency. Choose your server to configure and quote to meet your exact specifications. We help you to customize your SuperMicro servers to find a cost-optimized ideal solution.
Genuine SuperMicro Barebones:
We offer great deals on SuperMicro Barebone servers, offering 100% genuine products at the lowest prices. Our genuine SuperMicro Barebone servers are equipped with the latest generation Intel Xeon processors, high-end memory slots, PCI slots, and huge power supply amenities. SuperMicro barebone servers are maximum benefiting with uncompromising quality control, storage systems offering maximum productivity even to large enterprises.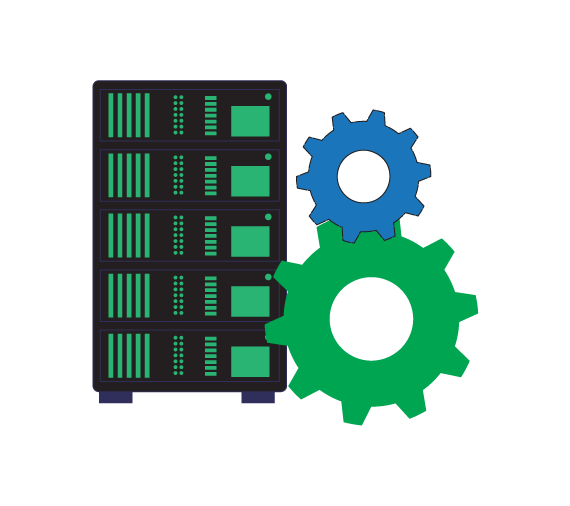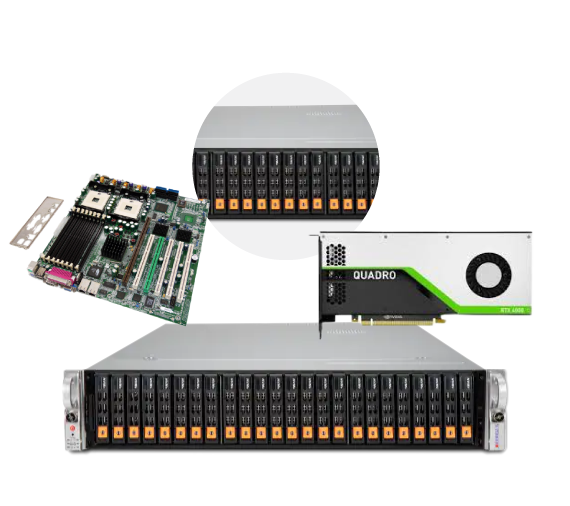 More than 20 SuperMicro Chassis Types:
We present your ultimate chassis designs of SuperMicro servers, making it the leader in chassis design. More than 20+ chassis types are available on our website including SC815, SC825, SC836, SC847, SC732, SC946 Series with distinct features like high-density top-loading storage, 100% cooling redundancy, high reliability, scalable storage, 1u,2u, 3u, and 4u mid-tower workstation chassis, flexible expansion slots and UIO support. The latest chassis designs are optimized for high-end x86 processors, equipped with hotplug heavy-duty fans, fan speed controls, and revolutionary designs to give 100% airflow redundancy.
SuperMicro Spares and Options:
We provide a huge selection of spare kits and accessories options to your SuperMicro servers, including customized spare parts. We have huge bundles of spares in stock and ready to dispatch. Our wide range of spares includes PC3 memory option, dual fans, redundant power supplies, NVRAM PCI interface adapter, ATX 450W switching power supply, SATA based system, 16 slots SAS/SATA USB and Backplane and many more.
3yrs Warranty:
We provide 3 years warranty for service and the one-year warranty for parts of your SuperMicro servers at our website. In this limited warranty period, we also include advance part replacement service for a period of one year from the invoice date. 3 years' service and replacement warranted is guaranteed on Motherboard, Chassis, power supplies and super barebone products. Any issues regarding replacement or hardware or anything will be assisted instantly by our technical support team during your warranty period and resolved as soon as possible.
Free Delivery:
We delivery your super micro server within 2-3 business days at free of cost. Instant, free and safe delivery service is offered by server basket to offer convenient shopping experience. We deliver across any city in India including Delhi, Chennai, Hyderabad, Mumbai, etc. it's our sole responsibility to deliver your package safe and securely at your doorstep without any delay or misplace.