Dedicated Server Hosting
30 Days Free Trial
We offer customized solutions based on your application needs to deliver an ideal blend of performance
Custom plans at Low Price
Server Remote Management (IDRAC, ILO, etc..)
Unlimited Bandwidth with 100% Uptime
24/7 Quick Technical Assistance
Need Help? Call/Whatsapp @+917337330402
| Plan Name | Processor | RAM | Storage | Bandwidth | PRICE/MONTH | BUY NOW |
| --- | --- | --- | --- | --- | --- | --- |
| STARTER | Intel Xeon E5-2620 CPU(6 Core/ 12 Threads) | 32GB | 2X480GB SSD Raid-1 | Unlimited | Rs. 7,999/- | Buy Now |
| STANDARD | Intel Xeon E5-2620 CPU(6 Core/ 12 Threads) | 48GB | 2X480GB SSD Raid-1 | Unlimited | Rs. 8,499/- | Buy Now |
| ADVANCED | Intel Xeon E5-2650 V2 CPU(8 Core/16 Threads) | 32GB | 2x1TB SSD Raid-1 | Unlimited | Rs. 11,499/- | Buy Now |
| PREMIUM | Intel Xeon E5-2650 V2 CPU(8 Core/16 Threads) | 48GB | 2x1TB SSD Raid-1 | Unlimited | Rs. 12,499/- | Buy Now |
| ENTERPRISE | Intel Xeon E5-2650 V2 CPU(8 Core/16 Threads) | 64GB | 2x1TB SSD Raid-1 | Unlimited | Rs. 12,999/- | Buy Now |
| Product id | PROCESSOR | RAM | STORAGE | BANDWIDTH | Price/Month | Buy Now |
| --- | --- | --- | --- | --- | --- | --- |
| SBINDDS-1 | Intel Xeon E5-2696 V2 CPU(12 Core/24 Threads) | 64GB | 3x1TB SSD Raid-5 | Unlimited | Rs. 14,999/- | Buy Now |
| SBINDDS-2 | Intel Xeon E5-2696 V2 CPU(12 Core/24 Threads) | 128GB | 3x1TB SSD Raid-5 | Unlimited | Rs. 19,999/- | Buy Now |
| SBINDDS-3 | 2 X Intel Xeon E5-2696 V2 CPU(24 Core/48 Threads) | 128GB | 3x1TB SSD Raid-5 | Unlimited | Rs. 24,999/- | Buy Now |
| SBINDDS-4 | 2 X Intel Xeon E5-2696 V2 CPU(24 Core/48 Threads) | 256GB | 3x1TB SSD Raid-5 | Unlimited | Rs. 29,999/- | Buy Now |
| SBINDDS-5 | 2 X Intel Xeon E5-2696 V2 CPU(24 Core/48 Threads) | 384GB | 3x2TB SSD Raid-5 | Unlimited | Rs. 34,999/- | Buy Now |
| SBINDDS-6 | 2 X Intel Xeon E5-2696 V2 CPU(24 Core/48 Threads) | 512GB | 4x2TB SSD Raid-5 | Unlimited | Rs. 39,999/- | Buy Now |
| SBINDDS-7 | 2 X Intel Xeon E5-2696 V3 CPU(36 Core/72 Threads) | 256GB | 4x2TB SSD Raid-5 | Unlimited | Rs. 40,999/- | Buy Now |
| SBINDDS-8 | 2 X Intel Xeon E5-2696 V3 CPU(36 Core/72 Threads) | 384GB | 4x2TB SSD Raid-5 | Unlimited | Rs. 44,999/- | Buy Now |
Best Customized Hosting Services
Our customized hosting service offering includes – custom dedicated servers, private cloud hosting, VPS server hosting solutions, networking, and multi-cloud connectivity. Our hosting services like dedicated hosting and custom VPS ensure the strictest security, compliance, and privacy that make your single-tenant exclusive hosting environment perfect for I/O intensive and mission-critical applications. Our custom servers and cloud platforms are hosted in the most advanced and secure tier 4 data centers. You can get around the clock server management and monitoring service along with the servers with customized hardware. We assure you get 100% uptime and unlimited bandwidth with our hosting service. We provide redundancy of resources with our customized hosting, which is also designed as a future-ready virtualization service. Share your goals with us, and we will create a hosting environment that will be the best fit for your needs.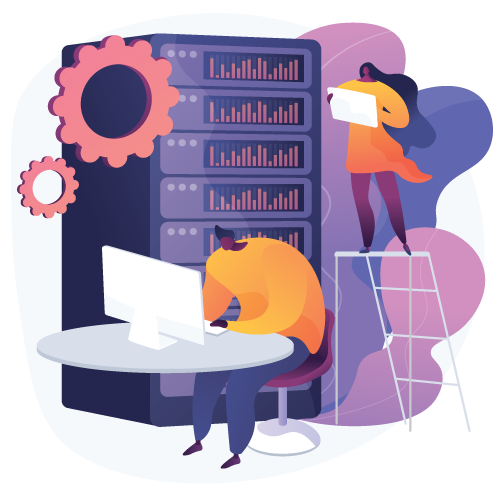 Customized Solutions Based on Applications
We offer customized solutions based on your application needs to deliver an ideal blend of performance, reliability, flexibility, and affordability to meet your organization's objectives. Our customized solution can accommodate any kind and size of application. Whether you choose a dedicated server, VPS, or cloud, we provide you with a robust and easily scalable hosting environment to launch your applications.
Servers with Customized Hardware
Our custom hardware solution can develop the server system for you that meets your needs accurately. Whether you need additional hardware like RAM or drives for storage, database, or big data, we can easily configure your server according to your exact needs. You may want to change some components or need a complete rebuild.
Redundant Tier 4 data center
Our customized servers are located in tier 4 data centers that deliver high levels of redundancy to ensure all-time availability of the essential components like network, equipment, cooling, programming and control. Our data centers are double-powered and have generators to enable longer hours during any crises. The cooling systems are also redundant as they give double the power for favorable temperatures that allow no disruptions in the operations.
Free Migration with no Data Loss
Our customized hosting service provides free migration from your current hosting provider. We do it in a phased manner, which defines the task deliverables during the installation phase only. We obtain access to your old server and receive archives of databases or files, as required. We then migrate databases and files to our server. We ensure there is no data loss during the migration but maintain a backup of the data. We follow a QA process to confirm a successful migration.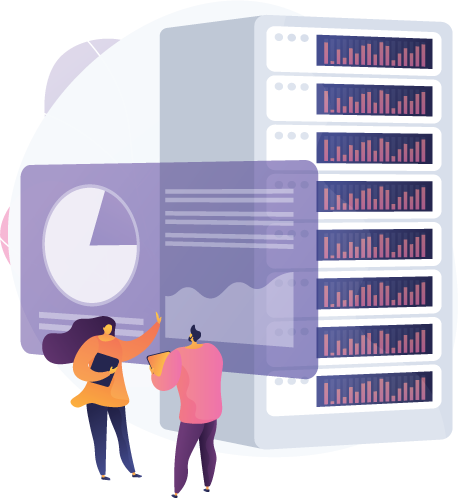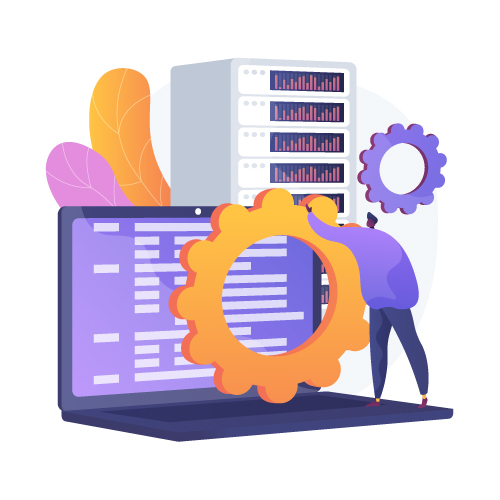 All Time Server Monitoring
We have a server monitoring system that collects all the operational data like CPU usage, disk space, memory, log files and other metrics. It also collates the user access data and displays everything in real-time on a dashboard. We keep checks on server security and install updates when required. We take care of the OS upgrades and daily server maintenance in every aspect.
Future Ready Virtualization Service
In future, more focus will be on converged networks and advanced cloud infrastructure. There will be new network intensive applications and data will move at 100 times the current speeds of the internet. So, we have developed a future-ready virtualization service which can easily upgrade to a cost-effective solution with future networking technologies.
Benefits with Server Basket
We understand the importance of your business needs and continuity. We wouldn't want any disturbances in your daily operations and app performances. Our customized hosting involves deployment of redundant servers to provide you the benefits of backups, availability during maintenance and for load balancing. Redundant servers use all resources in the same way but stay offline till they are needed as live servers. Our solution is built to remove any roadblocks in the way of your continuous business operations.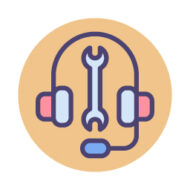 24/7 Management Service
With our 24/7 management service, experience the difference that expertise can make. For your servers' daily operations and management, your IT team's productivity can take the brunt. We will help you perform all the essential tasks for maintaining the servers and enabling them to function at the highest level of performance. As a managed customized hosting provider, we will manage the hardware, security, software, and backups for your server so that you focus just on your business.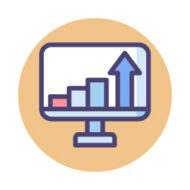 100% Uptime Assurance
Since our servers are hosted in tier 4 data centers, we assure you get a 100% uptime all the time. So, you can, without any worries, operate your demanding workloads and host your crucial applications on our customized servers or cloud hosting platforms. We monitor the network performance continuously to reduce latency and increase performance of our servers and your business.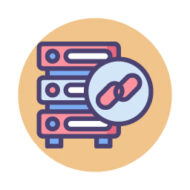 Unlimited Bandwidth
Our hosting service delivers unlimited bandwidth to allow unlimited space and speed for data transfer. It means you can upload or download as much data as you want. You get seamless transmission of data from the website to the users. Unlimited bandwidth is very important if your website is highly visible online and generates huge traffic. Your specific web apps also need unlimited bandwidth to remain available online all the time. We don't keep any tabs on your bandwidth usage.