DELL 1TB 2.5″ 6G SATA Hard Drive,
Dell 1TB Hard Drive
Part Number: 9Y8P6
Increase Storage Space
Capacity: 1TB
Interface: SATA Hard Drive
Form Factor: 2.5″(SFF)
Capacity: 1TB
Spindle Speed: 7.2k RPM
Data Transfer Rate: 6Gbps
Fast Delivery All Over India
Exclusive of Taxes
Shipping Charges depend on location
Buy Dell 1TB SATA 7.2k (2.5") HDD Hard Drives At Lowest Price in India, We provide SATA hard drives with a size 1 TB of capacity to store a high amount of data, with 7200 RPM spindle speed, & 6Gbps Data Transfer Rate that add more Space to the Server
Description
If you are looking for a powerful SATA Hard drives that have been tested for reliability, then Purchase Dell 1TB SATA HDD Hard Drive. If you are looking to ensure all your important data is safe and secure, choose one of the many Dell 1TB 2.5″ 6G SATA hard Drives (9Y8P6)we offer at an unimaginably lower price in India. The hard drive comes with a capacity of 1TB to store a massive amount of data, with a spindle speed of 7200 RPM. Purchase Dell 1TB SATA Hard drive at the best-discounted price from Server Basket and get one year warranty, Free Installation support, and Shipping across India.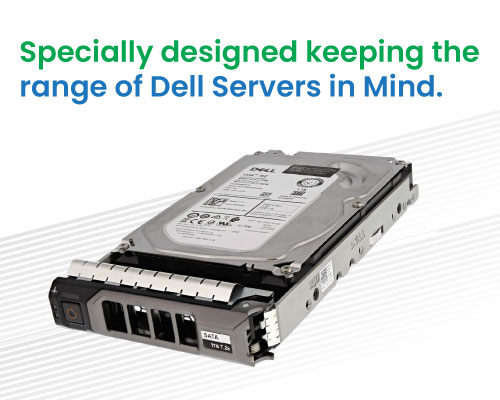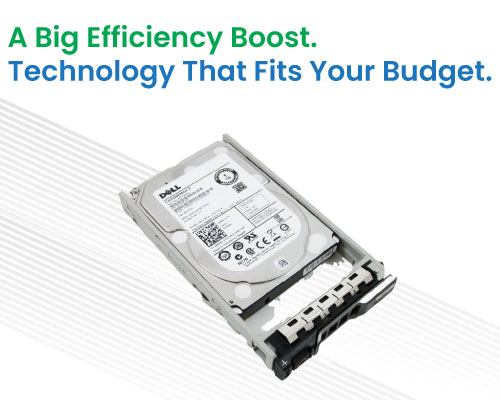 Dell 1TB SATA 7.2k rpm 2.5″(SFF) 6Gbps HDD Hard Drives Pricing List:
| Product Name | Specifications | Price | Buy Now |
| --- | --- | --- | --- |
| DELL 1TB 2.5″ 6G SATA Hard Drives | Dell 1TB 7.2K 2.5-inch 6Gb/s SATA Hot-Plug Hard Drive | Rs. 5,999/- | Buy Now |
| DELL 1TB 2.5″ 6G SATA Hard Drives Pair | Dell 1TB 7.2K 2.5-inch 6Gb/s SATA Hot-Plug Hard Drive | Rs. 11,999/- | Buy Now |
| DELL 1TB 2.5″ 6G SATA Hard DrivesSupporting Servers | DELL 2.5″ 6G SATA Hard Drives for Dell R210, R220, R230, R310, R320, R330, R410, R420, R430, R510, R530XD, R610, R620, R630, R710, R720, R720XD, R730XD, R730, R810, R820, R910, R920, R930, T20, T310, T320, T330, T410, T420, T430, T620, T630, T710, C1100, C2100, C6100, C6220 Servers | Rs. 5,999/- | Buy Now |
Dell 1TB SATA 7.2k 2.5″(SFF) 6Gbps HDD Hard Drives Supported Servers:
| Supporting Servers | Part No |
| --- | --- |
| Dell 1TB 7.2K 2.5-inch 6Gb/s SATA Hot-Plug Hard Drive for Dell R210 | WF12F |
| Dell 1TB 7.2K 2.5-inch 6Gb/s SATA Hot-Plug Hard Drive for Dell R220 | WF12F |
| Dell 1TB 7.2K 2.5-inch 6Gb/s SATA Hot-Plug Hard Drive for Dell R230 | WF12F |
| Dell 1TB 7.2K 2.5-inch 6Gb/s SATA Hot-Plug Hard Drive for Dell R310 | WF12F |
| Dell 1TB 7.2K 2.5-inch 6Gb/s SATA Hot-Plug Hard Drive for Dell R320 | WF12F |
| Dell 1TB 7.2K 2.5-inch 6Gb/s SATA Hot-Plug Hard Drive for Dell R330 | WF12F |
| Dell 1TB 7.2K 2.5-inch 6Gb/s SATA Hot-Plug Hard Drive for Dell R410 | WF12F |
| Dell 1TB 7.2K 2.5-inch 6Gb/s SATA Hot-Plug Hard Drive for Dell R420 | WF12F |
| Dell 1TB 7.2K 2.5-inch 6Gb/s SATA Hot-Plug Hard Drive for Dell R430 | WF12F |
| Dell 1TB 7.2K 2.5-inch 6Gb/s SATA Hot-Plug Hard Drive for Dell R510 | WF12F |
| Dell 1TB 7.2K 2.5-inch 6Gb/s SATA Hot-Plug Hard Drive for Dell R530 | WF12F |
| Dell 1TB 7.2K 2.5-inch 6Gb/s SATA Hot-Plug Hard Drive for Dell R530XD | WF12F |
| Dell 1TB 7.2K 2.5-inch 6Gb/s SATA Hot-Plug Hard Drive for Dell R610 | WF12F |
| Dell 1TB 7.2K 2.5-inch 6Gb/s SATA Hot-Plug Hard Drive for Dell R620 | WF12F |
| Dell 1TB 7.2K 2.5-inch 6Gb/s SATA Hot-Plug Hard Drive for Dell R630 | WF12F |
| Dell 1TB 7.2K 2.5-inch 6Gb/s SATA Hot-Plug Hard Drive for Dell R710 | WF12F |
| Dell 1TB 7.2K 2.5-inch 6Gb/s SATA Hot-Plug Hard Drive for Dell R720 | WF12F |
| Dell 1TB 7.2K 2.5-inch 6Gb/s SATA Hot-Plug Hard Drive for Dell R720XD | WF12F |
| Dell 1TB 7.2K 2.5-inch 6Gb/s SATA Hot-Plug Hard Drive for Dell R730XD | WF12F |
| Dell 1TB 7.2K 2.5-inch 6Gb/s SATA Hot-Plug Hard Drive for Dell R730 | WF12F |
| Dell 1TB 7.2K 2.5-inch 6Gb/s SATA Hot-Plug Hard Drive for Dell R810 | WF12F |
| Dell 1TB 7.2K 2.5-inch 6Gb/s SATA Hot-Plug Hard Drive for Dell R820 | WF12F |
| Dell 1TB 7.2K 2.5-inch 6Gb/s SATA Hot-Plug Hard Drive for Dell R910 | WF12F |
| Dell 1TB 7.2K 2.5-inch 6Gb/s SATA Hot-Plug Hard Drive for Dell R920 | WF12F |
| Dell 1TB 7.2K 2.5-inch 6Gb/s SATA Hot-Plug Hard Drive for Dell R930 | WF12F |
| Dell 1TB 7.2K 2.5-inch 6Gb/s SATA Hot-Plug Hard Drive for Dell T20 | WF12F |
| Dell 1TB 7.2K 2.5-inch 6Gb/s SATA Hot-Plug Hard Drive for Dell T310 | WF12F |
| Dell 1TB 7.2K 2.5-inch 6Gb/s SATA Hot-Plug Hard Drive for Dell T320 | WF12F |
| Dell 1TB 7.2K 2.5-inch 6Gb/s SATA Hot-Plug Hard Drive for Dell T330 | WF12F |
| Dell 1TB 7.2K 2.5-inch 6Gb/s SATA Hot-Plug Hard Drive for Dell T410 | WF12F |
| Dell 1TB 7.2K 2.5-inch 6Gb/s SATA Hot-Plug Hard Drive for Dell T420 | WF12F |
| Dell 1TB 7.2K 2.5-inch 6Gb/s SATA Hot-Plug Hard Drive for Dell T430 | WF12F |
| Dell 1TB 7.2K 2.5-inch 6Gb/s SATA Hot-Plug Hard Drive for Dell T620 | WF12F |
| Dell 1TB 7.2K 2.5-inch 6Gb/s SATA Hot-Plug Hard Drive for Dell T630 | WF12F |
| Dell 1TB 7.2K 2.5-inch 6Gb/s SATA Hot-Plug Hard Drive for Dell T710 | WF12F |
| Dell 1TB 7.2K 2.5-inch 6Gb/s SATA Hot-Plug Hard Drive for Dell C1100 | WF12F |
| Dell 1TB 7.2K 2.5-inch 6Gb/s SATA Hot-Plug Hard Drive for Dell C2100 | WF12F |
| Dell 1TB 7.2K 2.5-inch 6Gb/s SATA Hot-Plug Hard Drive for Dell C6100 | WF12F |
| Dell 1TB 7.2K 2.5-inch 6Gb/s SATA Hot-Plug Hard Drive for Dell C6220 | WF12F |