Description
Intel Xeon 8 Core Processors Price List
| Processor Model | Specifications | Buy Now |
| --- | --- | --- |
| Intel® Xeon® Gold 6244 Processor | Intel® Xeon® Gold 6244 Processor, (3.60 GHz/8 Cores/25 MB/150 W) Supported Servers: Dell T7920, R440, R540, R640, R740, R740XD & HP Z8 Gen4, DL380 Gen10, DL360 Gen10, DL160 Gen10, DL180 Gen10 | Buy Now |
| Intel® Xeon® Gold 6144 Processor | Intel® Xeon® Gold 6144 Processor, SR3TR (3.50 GHz/8 Cores/24.75 MB/150 W) Supported Servers: Dell T7920, R440, R540, R640, R740, R740XD & HP Z8 Gen4, DL380 Gen10, DL360 Gen10, DL160 Gen10, DL180 Gen10 | Buy Now |
| Intel® Xeon® Gold 6134 Processor | Intel® Xeon® Gold 6134 Processor, QLH2 (3.20 GHz/8 Cores/24.75 MB/130 W) Supported Servers: Dell T7920, R440, R540, R640, R740, R740XD & HP Z8 Gen4, DL380 Gen10, DL360 Gen10, DL160 Gen10, DL180 Gen10 | Buy Now |
| Intel® Xeon® Gold 5217 Processor | Intel® Xeon® Gold 5217 Processor, (3.00 GHz/8 Cores/11 MB/115 W) Supported Servers: Dell T7920, R440, R540, R640, R740, R740XD & HP Z8 Gen4, DL380 Gen10, DL360 Gen10, DL160 Gen10, DL180 Gen10 | Buy Now |
| Intel® Xeon® Silver 4208 Processor | Intel® Xeon® Silver 4208 Processor, (2.10 GHz/8 Cores/11 MB/85 W) Supported Servers: Dell T7920, R440, R540, R640, R740, R740XD & HP Z8 Gen4, DL380 Gen10, DL360 Gen10, DL160 Gen10, DL180 Gen10 | Buy Now |
| Intel® Xeon® Silver 4215 Processor | Intel® Xeon® Silver 4215 Processor, (2.50 GHz/8 Cores/11 MB/85 W) Supported Servers: Dell T7920, R440, R540, R640, R740, R740XD & HP Z8 Gen4, DL380 Gen10, DL360 Gen10, DL160 Gen10, DL180 Gen10 | Buy Now |
| Intel® Xeon® Silver 4209T Processor | Intel® Xeon® Silver 4209T Processor, (2.20 GHz/8 Cores/11 MB/70 W) Supported Servers: Dell T7920, R440, R540, R640, R740, R740XD & HP Z8 Gen4, DL380 Gen10, DL360 Gen10, DL160 Gen10, DL180 Gen10 | Buy Now |
| Intel® Xeon® Silver 4110 Processor | Intel® Xeon® Silver 4110 Processor, SR3GH (2.10 GHz/8 Cores/11 MB/85 W) Supported Servers: Dell T7920, R440, R540, R640, R740, R740XD & HP Z8 Gen4, DL380 Gen10, DL360 Gen10, DL160 Gen10, DL180 Gen10 | Buy Now |
| Intel® Xeon® Silver 4109T Processor | Intel® Xeon® Silver 4109T Processor, (2.00 GHz/8 Cores/11 MB/70 W) Supported Servers: Dell T7920, R440, R540, R640, R740, R740XD & HP Z8 Gen4, DL380 Gen10, DL360 Gen10, DL160 Gen10, DL180 Gen10 | Buy Now |
| Intel® Xeon® Silver 4108 Processor | Intel® Xeon® Silver 4108 Processor, (4XG7A07205) (1.80 GHz/8 Cores/11 MB/85 W) Supported Servers: Dell T7920, R440, R540, R640, R740, R740XD & HP Z8 Gen4, DL380 Gen10, DL360 Gen10, DL160 Gen10, DL180 Gen10 | Buy Now |
| Intel® Xeon® Bronze 3106 Processor | Intel® Xeon® Bronze 3106 Processor, QL1G (1.70 GHz/8 Cores/11 MB/85 W) Supported Servers: Dell T7920, R440, R540, R640, R740, R740XD & HP Z8 Gen4, DL380 Gen10, DL360 Gen10, DL160 Gen10, DL180 Gen10 | Buy Now |
| Intel® Xeon® Processor E7-4809 v4 | Intel® Xeon® Processor E7-4809 v4, SR2S5 (2.10 GHz/8 Cores/20 MB/115 W) Supported Servers: Dell R930 & HP DL580 Gen9 | Buy Now |
| Intel® Xeon® Processor E7-4809 v3 | Intel® Xeon® Processor E7-4809 v3, SR223 (2.00 GHz/8 Cores/20 MB/115 W) | Buy Now |
| Intel® Xeon® Processor E5-4655 v4 | Intel® Xeon® Processor E5-4655 v4, SR2SH (2.50 GHz/8 Cores/30 MB/135 W) Supported Servers: Dell FC830 & HP DL560 Gen9 | Buy Now |
| Intel® Xeon® Processor E5-2667 v4 | Intel® Xeon® Processor E5-2667 v4, QHVD (3.20 GHz/8 Cores/25 MB/135 W) Supported Servers: Dell T630, R430, R530, R630, R730, R730XD & HP DL380 Gen9, DL360 Gen9, Z840, Z640 Workstation | Buy Now |
| Intel® Xeon® Processor E5-2620 v4 | Intel® Xeon® Processor E5-2620 v4, QK3F (2.10 GHz/8 Cores/20 MB/85 W) Supported Servers: Dell T630, R430, R530, R630, R730, R730XD & HP DL380 Gen9, DL360 Gen9, Z840, Z640 Workstation | Buy Now |
| Intel® Xeon® Processor E5-2609 v4 | Intel® Xeon® Processor E5-2609 v4, QKEW (1.70 GHz/8 Cores/20 MB/85 W) Supported Servers: Dell T630, R430, R530, R630, R730, R730XD & HP DL380 Gen9, DL360 Gen9, Z840, Z640 Workstation | Buy Now |
| Intel® Xeon® Processor E5-1680 v4 | Intel® Xeon® Processor E5-1680 v4, QK3P (3.40 GHz/8 Cores/20 MB/140 W) Supported Servers: Dell T7810, T7910 Workstation | Buy Now |
| Intel® Xeon® Processor E5-1660 v4 | Intel® Xeon® Processor E5-1660 v4, QK3S (3.20 GHz/8 Cores/20 MB/140 W) Supported Servers: Dell T7810, T7910, T5810, R440, & IBM Lenovo P410 Thinkstation | Buy Now |
| Intel® Xeon® Processor E5-2667 v3 | Intel® Xeon® Processor E5-2667 v3, QEYA (3.20 GHz/8 Cores/20 MB/135 W) Supported Servers: Dell T630, R430, R530, R630, R730, R730XD & HP DL380 Gen9, DL360 Gen9, Z840, Z640 Workstation | Buy Now |
| Intel® Xeon® Processor E5-2640 v3 | Intel® Xeon® Processor E5-2640 v3, SR205 (2.60 GHz/8 Cores/20 MB/90 W) Supported Servers: Dell T630, R430, R530, R630, R730, R730XD & HP DL380 Gen9, DL360 Gen9, Z840, Z640 Workstation | Buy Now |
| Intel® Xeon® Processor E5-2630 v3 | Intel® Xeon® Processor E5-2630 v3, QEYW (2.40 GHz/8 Cores/20 MB/85 W) Supported Ser Workstationvers: Dell T630, R430, R530, R630, R730, R730XD & HP DL380 Gen9, DL360 Gen9, Z840, Z640 Workstation | Buy Now |
| Intel® Xeon® Processor E5-2630L v3 | Intel® Xeon® Processor E5-2630L v3, QEYX (1.80 GHz/8 Cores/20 MB/55 W) Supported Servers: Dell T630, R430, R530, R630, R730, R730XD & HP DL380 Gen9, DL360 Gen9, Z840, Z640 Workstation | Buy Now |
| Intel® Xeon® Processor E5-1680 v3 | Intel® Xeon® Processor E5-1680 v3, QFSS (3.20 GHz/8 Cores/20 MB/140 W) Supported Servers: Dell FC430 | Buy Now |
| Intel® Xeon® Processor E5-1660 v3 | Intel® Xeon® Processor E5-1660 v3, QGSL (3.00 GHz/8 Cores/20 MB/140 W) Supported Servers: Dell FC430 | Buy Now |
| Intel® Xeon® Processor E7-4820 v2 | Intel® Xeon® Processor E7-4820 v2, SR1H0 (2.00 GHz/8 Cores/16 MB/105 W) HP DL560 Gen8, HP BL660c Gen8, | Buy Now |
| Intel® Xeon® Processor E5-4627 v2 | Intel® Xeon® Processor E5-4627 v2, SR1AD (3.30 GHz/8 Cores/16 MB/130 W) HP DL560 Gen8, HP BL660c Gen8, | Buy Now |
| Intel® Xeon® Processor E5-4620 v2 | Intel® Xeon® Processor E5-4620 v2, SR1AA (2.60 GHz/8 Cores/20 MB/95 W) HP DL560 Gen8, HP BL660c Gen8, | Buy Now |
| Intel® Xeon® Processor E5-4610 v2 | Intel® Xeon® Processor E5-4610 v2, SR19L (2.30 GHz/8 Cores/16 MB/95 W) HP DL560 Gen8, HP BL660c Gen8, | Buy Now |
| Intel® Xeon® Processor E5-2687W v2 | Intel® Xeon® Processor E5-2687W v2, SR19V (3.40 GHz/8 Cores/25 MB/150 W) Dell Precision T5610 Workstation, Dell M620 Blade Server & HP DL 360p Gen8, HP DL380p Gen8, HP BL460c Gen8, HP Z620 Workstation & Cisco UCS B200 M3 Server | Buy Now |
| Intel® Xeon® Processor E5-2667 v2 | Intel® Xeon® Processor E5-2667 v2, SR19W (3.30 GHz/8 Cores/25 MB/130 W) Dell Precision T5610 Workstation, Dell M620 Blade Server & HP DL 360p Gen8, HP DL380p Gen8, HP BL460c Gen8, HP Z620 Workstation & Cisco UCS B200 M3 Server | Buy Now |
| Intel® Xeon® Processor E5-2650 v2 | Intel® Xeon® Processor E5-2650 v2, SR1A8 (2.60 GHz/8 Cores/20 MB/95 W) Dell Precision T5610 Workstation, Dell M620 Blade Server & HP DL 360p Gen8, HP DL380p Gen8, HP BL460c Gen8, HP Z620 Workstation & Cisco UCS B200 M3 Server | Buy Now |
| Intel® Xeon® Processor E5-2640 v2 | Intel® Xeon® Processor E5-2640 v2, SR19Z (2.00 GHz/8 Cores/20 MB/95 W) Dell Precision T5610 Workstation, Dell M620 Blade Server & HP DL 360p Gen8, HP DL380p Gen8, HP BL460c Gen8, HP Z620 Workstation & Cisco UCS B200 M3 Server | Buy Now |
| Intel® Xeon® Processor E5-2450 v2 | Intel® Xeon® Processor E5-2450 v2, SR1A9 (2.50 GHz/8 Cores/20 MB/95 W) HP DL380e Gen8 | Buy Now |
| Intel® Xeon® Processor E5-2440 v2 | Intel® Xeon® Processor E5-2440 v2, SR19T (1.90 GHz/8 Cores/20 MB/95 W) HP DL380e Gen8 | Buy Now |
| Intel® Xeon® W-2145 Processor | Intel® Xeon® W-2145 Processor, (CD8067303533601), SR1XR (3.70 GHz/8 Cores/11 MB/140 W) Dell Precision 5820 Tower Workstation | Buy Now |
Are you planning to upgrade your server with a powerful 8 core processor? Then you are in the right place. At Server Basket, we have a wide range of Octa Core Processsors and for Easy comparison check the Intel Xeon 8 core processors price List available Online. These processors have the capability to deliver the best performance, has maximum memory capacity, clock speed, and memory bandwidth. Octa-core processors supports multiple advanced technologies that enhance the system's performance. Purchase from Server Basket as we are selling both new and refurbished intel xeon 8 core CPUs at a discounted price and with assured warranty services and blazing fast shipping.
Highly Secured Intel Xeon Octa-Core Processors
The Intel Xeon 8-core processors are packed with the best security and reliability features to secure the system and protect the data without any crashes or loss. The processor comes with a range of advanced features like Intel AES New Instructions, Intel OS Guard, Secure Key and Execute Disable Bit. The Xeon processors also support Intel Trusted Execution Technology for safer computing. Some of the 8 Core Processors include Intel Gold 6144, Gold 5217, Silver 4208, E7-4809 v4, E5-4655 v4, E5-2620 v4, E5-2609 v4, E5-1680 v4, E5-1660 v4, E5-1660 v4, E5-2667 v3, E5-2640 v3, E5-2630 v3, E5-1680 v3, E7-4820 v2, E5-4620 v2, E5-2650 v2, E5-2440 v2 Processors
Created for High & Mid-Level Workloads
With up to 8 cores, 16 threads and 20 MB smart cache, the Intel Xeon 8 core processors are clocked at a speed of 2.10 GHz and 6.4 GT/s QPI of bus speed with 3 QPI links. It supports for a memory capacity of up to 3TB, DDR4 memory, 4 memory channels and 85 GB/s of maximum memory bandwidth. With this enhanced specifications and features, the Intel Xeon 8 core processors have full efficiency to work under diverse workloads. This 8 Core Processors are Perfect Choice for Servers Like: Dell R440, R540, R640, R740, R740XD, Dell T630, Dell R430, R530, R630, Dell T7810, T7910, T5810 Workstation, Lenovo P410 Thinkstation, HP Z840, Z640, HP DL180 Gen10, DL360 Gen10, DL380 Gen10, HP DL360 Gen9, HP DL380 Gen9, DL580 Gen9 Server Etc
Free Pre-sales Guidance
We at Server Basket are ready to provide you free pre-sales support. Our sales team are the experts who guide you to purchase the appropriate processor model that is compatible with your server or the one that is needed for your business needs and the one that comes under your budget. They will guide you through the entire process and thus lead you to a happy shopping at Server Basket.
Cheap Add-ons to Save Money
Up lift your server performance by purchasing 8-Core CPUs add-ons at a very cheaper price. These CPU add-ons will enhance the processor working condition to excel efficiently and thus resulting in improving the server performance. At Server Basket, we are offering a wide range of high-quality add-ons that include cooling paste, heatsinks and CPU cooling fan, etc. for the lowest possible price.
New & Refurbished Xeon 8 Core CPUs
At Server Basket, you get to purchase brand new Intel Xeon 8 core processors as well as 100% quality tested refurbished processors at a very valuable price. Invest in the best processor that is suitable for your business requirement as well as the one that is compatible with your server according to your budget.
Supported by Advanced Technologies
The Intel Xeon 8 core processors support many advanced technologies that help in enhancing the system performance, processor's frequency, security, and speed. Some of the supported technologies include Intel Turbo Boost Technology, Intel Virtualization Technology, Intel Hyper-Threading Technology, Enhanced Intel Speed Step Technology, and Thermal Monitoring Technologies.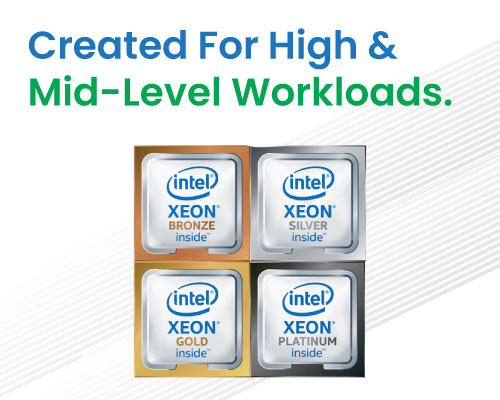 Shipped with Multi-Layer Packaging
Your package with Intel Xeon 8 core processor will be packed with multiple layers of packaging and will be ready to dispatch as soon as the order is confirmed. The delivery option is available across India including the cities like Chennai, Hyderabad, Bangalore, Mumbai, Delhi, Jaipur, Noida, Pune, etc. and also to any remotest locations. We usually try to deliver your product with 2-3 business days.
Assured Warranty
You get an assured 1-year warranty on the purchase of brand new Intel Xeon 8 core processors from Server Basket and a 90-day warranty on the refurbished product. Our warranty states that your purchased product from Server Basket will be safe for any issues or failure occurred during the warranty period. You can seek for an immediate replacement in case of failure under the warranty period.