Description
VPS For MetaTrader 4 (CentOS):
VPS For MetaTrader 4 Plans in India
| Specifications | Micro | Mega | Giga | Tera |
| --- | --- | --- | --- | --- |
| CPU | Quad Core CPU | Hexa Core CPU | Octa Core | Octa Core |
| SSD | 200 GB | 300 GB | 500 GB | 650 GB |
| RAM | 8GB | 16GB | 32GB | 48GB |
| Linux 1 Month Plan | Rs. 2,999/ Month | Rs. 3,999/ Month | Rs. 4,999/ Month | Rs. 6,499/ Month |
| Linux 3 Months Plan | Rs. 2,849/ Month | Rs. 3,799/ Month | Rs. 4,749/ Month | Rs. 6,174/ Month |
| Linux 6 Months Plan | Rs. 2,699/ Month | Rs. 3,599/ Month | Rs. 4,499/ Month | Rs. 5,849/ Month |
| Linux 1 Year Plan | Rs. 2,399/ Month | Rs. 3,199/ Month | Rs. 3,999/ Month | Rs. 5,199/ Month |
| Linux 2 Years Plan | Rs. 2,099/ Month | Rs. 2,799/ Month | Rs. 3,499/ Month | Rs. 4,549/ Month |
| Linux 3 Years Plan | Rs. 1,799/ Month | Rs. 2,399/ Month | Rs. 2,999/ Month | Rs. 3,899/ Month |
| | Buy Now | Buy Now | Buy Now | Buy Now |
Are you a trader in need of VPS hosting for foreign exchange (Forex) trading or your automated online platform MetaTrader 4 (MT4)? Do you want to ensure that the actions you execute on your Forex MetaTrader run without any disruptions and your funds and account are safe? This can be achieved with the VPS for MT4 trading, which allows dedicated resources for the smooth functioning of your trading platform and gives more security and privacy. Server Basket offers cost-efficient VPS hosting plans for MT4 Forex that can enable MT4 to operate uninterruptedly and take on unexpected trading challenges. MT4 is a widely trusted and popular trading platform which is used by forex traders across the whole world. It has many extensive features which have made it a benchmark for online Forex trading. It gives you real-time access to the market and the flexibility for multiple trading orders together. Our VPS hosting for MT4 gives you an assured 100% uptime and unlimited bandwidth for seamless performance. We also provide MT4 Linux which runs on Linux OS. Our experts are always available to provide free installation support to you so that your MT4 VPS is available, running, and performing.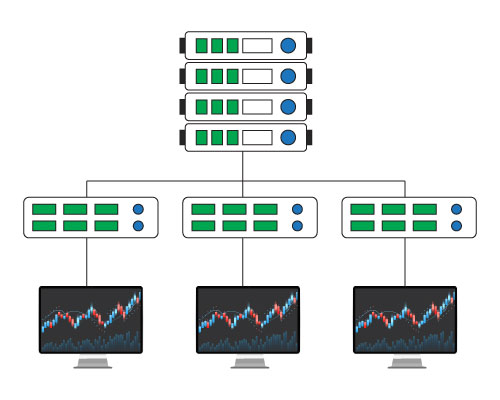 Our VPS hosting for MT4 is the best VPS solution for your Forex trading. It is budget-friendly, needs the least configuration and presents minimal delays to the server. We allocate a dedicated amount of scalable resources to your VPS which ensures that your trading operations on MT4 continue and there are no disruptions. Our MT4 VPS also gives more privacy and safety for your trading account and funds.
MT4 permits you to access the forex market in real-time, get quotes, and execute trades. You can see, in the "Market Watch" window, the currencies, and securities that you can trade through a broker listed. It also displays the real-time ask/bid quote, with the security symbol. You can also view other details like contract size, spread, margin currency, and percentage in this window. The "Depth of Market" feature tells you about real-time market activities.
In Forex trading, lots of complexities and challenges can come up and overburden anybody. But a proper trading platform like MT4 overcomes all the trading challenges and provides the security, technology, and solutions required for competitive Forex trading. With MT4, it is convenient to take orders of profit and curtail loss at the same time, when opening a new opportunity for trading. With our MT4 hosting on VPS, MT4's benefits are amplified for the most favorable desk Forex trading performance.
MT4 is considered a highly secure and stable platform. The data exchange between servers and client terminals is encrypted and the platform supports digital signatures. The IPs of traders are not visible. These features enable you to perform financial transactions in a totally secured environment. Rest assured that your trading accounts remain protected from cyber-crimes with extremely secure MT4 VPS. MT4 can be accessed from any device and anywhere, enabling you to trade on the move.
VPS for MT4 allows multiple operations on the trading platform simultaneously. It can run two different accounts concurrently, even on separate devices. MT4 allows two different types of market orders, four types of pending orders, and three different modes for trade execution, giving you a high level of flexibility. There are stop orders as well. All orders can be conveniently launched from the "Toolbar" window or chart and can be modified and deleted also.
With our MT4 VPS, expert advisors (EAs) on MT4 can deploy automated strategies for trading and are always working. The trader need not monitor the activities in order to earn. Even if the user is away for some personal reasons or there is no wi-fi, the business on MT4 continues. Automated trading allows them to control market movements without even intervening. With the help of customized EAs, expert traders can create and employ their own market strategies.
MT4 trading happens around the clock, considering the different time zones across the globe. So, your trading platform needs to be available and operational all the time. We assure you that our VPS hosting will enable this, with an assured 100% uptime. We can guarantee a cent percent uptime as our servers are placed in the most advanced data centers having high-end infrastructure, security, and network connectivity. You can trade on your MT4 24 hours.
Forex trading on MT4 involves huge amounts of data exchange between different parties. For continuous business operations, data exchange must not be hampered and there should be no delays or latency. A high bandwidth is very helpful in this regard. Our MT4 VPS provides unlimited bandwidth, which means that the data transfer or exchange can happen without any limitations. Continuous and smooth operations of your business is the primary goal of our VPS hosting service.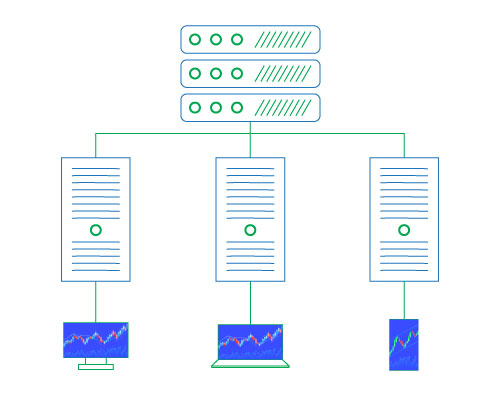 MT4 is easy to set up and use the Forex trading interface, with simple instructions and guidelines. Our expert technicians will provide free installation assistance to help you with the setup of the MT4 platform through our VPS so that you can immediately start your trading operations. You can also contact our team if there is any issue in the functioning or performance of the VPS service. Success of your business is our success!