8th Generation Intel Core i7 Processor Family
16GB RAM, DDR4-2666 SDRAM(1x16GB)
Certified NVIDIA GTX 1080, 1060 & Quadro P400 graphics
12 MB cache
512 GB PCIe NVMe SSD
3-year warranty
Exclusive of Taxes

Buy HP Elite 800 Desktop Tower Workstation at Discounted Price in India, This HP Workstation Comes with includes Intel Core, Pentium, Celeon Processors, 4 DIMM Slots of DDR4 Memory(2666 MT/s), SATA HDD, SATA SSHD, SATA SSD, M.2 PCIe NVMe SSD Hard Drives

Workstations must assure excellent performance to complete the computing tasks briskly without any hassle, whether you are using them for professional or personal use. Visit Server Basket website to get the best deals on Brand New hp workstations. The workstations are equipped with amazing features to handle extreme workloads with adequate memory and processing capabilities. Various models of HP Workstations that are with us include, but not limited to are – HP Z8 G4, Z4 G4, Z2 Mini Gen3, Z620, Z240, Z238, Z840, Z640, z230, and Z440. Making a purchase of these models at our online store will also provide you with our pre and post-sale support on HP high-end workstations with a 3-year warranty. When it comes to shipping, it is done at a jet speed and safely.
Best HP Workstations are Good to Use for The Following Professional Workflows:
Rendering
Creative professionals would love working on the latest HP workstations that can render heavy graphics in no time. They enable graphics and videos with theater effects on the screen.
3D Design
You can design 3D animations from concept to their making on the desktops or laptops which are optimized with 3D modeling, SolidWorks and CAD platforms. Using any of these software, you can create rich 3D effects. You can start to sketch the next product design on this workstation and get the ideal prototype done in no time. The hp workstation models allow you to seamlessly move between rendering and simulation apps.
Animation
HP workstations are engineered to let you work on graphic designing, video editing, animation and architecture-based tasks smoothly. You may be passionate about designing animated characters as an interest or it may be your profession, you can do everything on this workstation. You can tap your creative juices with the power of precision and practicality to design something unique using these workstations.
Data Analysis
The HP workstations would meet your data crunch needs easily. It is essential to have the best systems for data scientists to carry out data analysis efficiently. These workstations have the best processors which run at the speed of up to 4.6 GHz to accelerate processor-heavy apps. The RAM can also be increased from 8 to 16GB. The SSDs can store massive datasets. These are robust enough to run powerful data analytics apps. 
Customize Your Own Workstation to Handle the Most Challenging Workloads
Sometimes, you need the workstations that are customizable. HP is exactly offering the same. The above mentioned hp business workstations allow you to handle challenging workloads. These can run complex simulations. You can use them to handle machine learning algorithms and processes with huge amounts of data. These workstations can be used for designing, simulation and video editing and to handle heavy workloads. There is enough room to expand the capacity of the components based on the work demands. No matter what your computing requirements are, the performance of the workstation is never compromised. We custom build the workstation based on the RAM, SSDs, graphics card and processor you want as per your needs instead of confining it to the standard preconfiguration. Our team will understand your requirements and customize the workstation that best fits your job.
Good storage capacity
Graphic cards
Different models of NVIDIA or AMD graphics cards are equipped to render heavy graphics on the system. The dual-graphics support assures you peak performance and productivity. 
Memory
You can run multiple apps at the same time without letting the system hang up. The workstations offer advanced memory of up to 64 GB ECC or nECC DDR5 RAM in various DIMM slots that can hold different memory capacities.
Processors
Intel Xeon processors used by HP Z8 G4 and Z240 allow you to develop apps and run many apps in tandem. They support ECC memory for data integrity and reliability.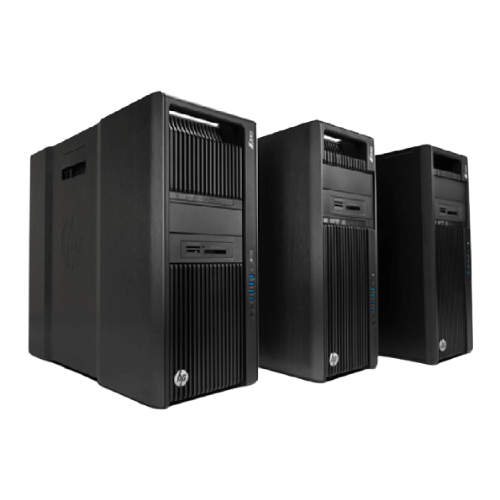 Server Basket Offers the Best Deals on HP Workstations
We at Server Basket offer you with the best hp workstation deals if you are planning to change your current workstation and upgrade to the latest model of HP workstations or buy a new laptop or desktop altogether. Our deals are the best in the market. The price range of workstations ranges from INR 43,000 to 1.5 lakhs. Pricing completely depends on your computing requirements. Additionally, we offer installation assistance and technical support for all the products.
Buy a Suitable HP Workstations Online from Any Location in India
We have a myriad of Brand New hp workstations from which you can choose the one of your choice that effectively fits your bill and purpose. We deliver the workstation safely at the customer's doorstep, to every nook and cranny across India.
What are you waiting for? Hurry up! Buy hp workstations online at unmatched prices.
24/7 Technical Support
Quality customer support is our top priority. We have built a team with experienced and skilled professionals to look after customer queries and address them within a few hours. We assure you to get the best performance and privacy features when it comes to workstations.
Ironclad 3 Years Warranty
Server Basket's Ironclad 3-years warranty lets you replace or return the products any time when you are not satisfied or are facing some issues with the product. We only offer quality and genuine products, but still, if you come across any mechanical or hardware problems, we are always ready to replace your products within the warranty period.